General Knowledge is the most important subject if you are preparing for any exam especially Civil Services exams. So one needs to know the latest gk questions answers for their preparation, and this can be done using gk online tests and quiz. There are many website and apps you will find online that offers you GK mock test but you should use the one which is the hardest one.
Best Apps for GK Questions Answers in English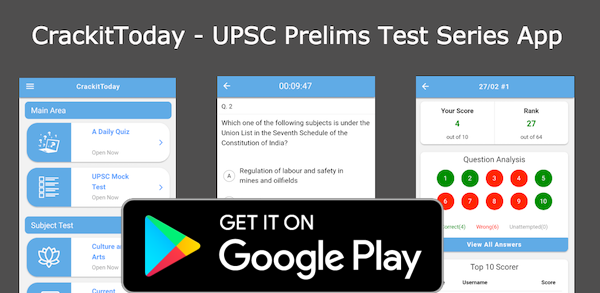 CrackitToday – UPSC IAS Preparation App
It is a recently launched Android app that mainly focuses on uploading daily gk and current affairs question answers. If you are preparing for UPSC IAS or any other State civil services then this GK online test app will be the best for you. Here are some of the features of the app.
Detailed Answers Explanation
Daily Test Notifications
Topic include both current affairs and gk
Ranking system
OliveBoard – Daily Current Affairs 2019 & General Knowledge App
OliveBoard is a fairly known app when it comes to government exam preparation. One of its apps also posts daily quizzes on GK and it is of great quality. Top Features on GK App

Read GK News Offline.
General Knowledge Quiz
Notifications
TestBook – Online GK Test App
Just like OliveBoard, TestBook is also a quite famous app when it comes to GK and Current Affairs Questions. You should definitely check it out. Features of the online test app
Available in both ENGLISH & HINDI
Night Mode
Best Website for GK Online Test in English
Insights IAS – https://www.insightsonindia.com
Insights is a well-known name when it comes to mock tests, the questions you will find here are tough but are relevant to the UPSC Prelims Exam.
IASBaba – https://iasbaba.com
Again for UPSC IAS preparation, provides a quality mock test to the users and other than that you will find a compilation of daily current affairs here.
Adda247 – https://www.adda247.com
Best place for gk online test if you are preparing for Bank, SSC, Railways. Other than the website you will also find a dedicated app for Adda247.
In Conclusion, these are the best places to give gk and current affairs online tests. In these apps and websites, you will find different difficulty levels of gk and current affairs question so make sure you are using the right platform.