You prepared for the UPSC prelims exam well, you were confident that you will succeed but still you failed your prelims. Has it ever happened to you? UPSC mcq app can help you with this
If you prepared really well and still not succeeded then its most probably because you didn't practice enough. Its really important that you practice mcq questions daily using upsc mcq app or any other daily test source. This helps you in gripping the pattern of the questions and practicing MCQ questions will help you with your guesswork.
If you have appeared in UPSC civil services prelims examination you will understand that no matter how much you have prepared ultimately it will come down to those 4-5 questions that you are not so sure about how this is where practice comes handy. If you have attempted enough questions you will easily cruise through those questions but if you are out of practice then those 5 questions are bound to fail you because of thats how UPSC IAS examiner has designed those questions.
Now when it comes to UPSC mcq app, one of the app you should try is CrackitToday.
Best UPSC mcq app Download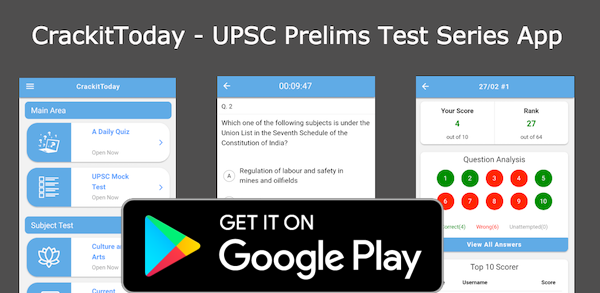 CrackitToday is a UPSC IAS preparation and practice app that posts daily quizzes based on both current affairs and static GK syllabus. All you need to do is install the app and get started.
In the app itself, you will find many categories of tests such as Daily test, Subject test, UPSC mock test. All of these tests are updated frequently.
Make sure you attempt all the tests daily and closely examine the answer explanation so that you get to know where you went wrong and then try to rectify it in the next test. I am sure that you will be really happy with your progress.