There is one basic rule which must be followed that is, Use the CrackitToday App every day.
If you haven't started your preparation yet and don't know where to start then please refer to this UPSC Guide for basic guidance. Once you are done with basics lets get started with the CrackitToday App.
So, CrackitToday should be used for two basic things that are extremely important for your exams.
To Get Daily Current Affairs (in the morning)
To Give Daily Tests (at night)
How to Make Daily Current Affairs Notes.
Every morning, make it a habit to sit with your phone (with the app open) and cover daily current affairs using the app. To access the daily current affairs you need to
Open the Crackittoday app,
Go to the daily current affairs section
Open the current affairs for the latest date.
Make Daily Notes
With the Combination of CrackitToday Cards, you can copy important and hard to remember information and paste it directly to Cards and use it regularly for revision.
Note: – If you can, try to Upgrade to CrackitToday Ultimate for a very reasonable price. With the Ultimate account, you get access to our monthly current affairs PDF that can be downloaded and used also on your laptop too.
How to Give Daily Test on CrackitToday App.
Best practice would be to attempt the 20 questions daily test at night before going to the bed this would help you retain the things you learned that day. To access the daily tests you need to
Open the Crackittoday app,
Go to the daily test section and
Open the daily tests for the latest date.
Read the instructions and start the test.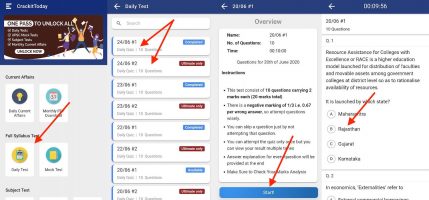 Note:- Daily tests are uploaded in two parts as #1 and #2. It is highly recommended that you attempt both the parts every day.
Use the "+" button in All Answers Page to directly import the tough questions to CrackitToday Cards.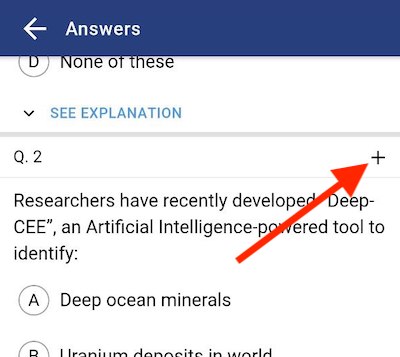 The more you practice, the more you get familiar with the UPSC Prelims questions pattern and in some time you will get to a point where you can mark the option correct because so much practicing has made your thinking similar to that of the examiner.
Some tips for CrackitToday Daily Test Series
Make sure that you give daily tests every day (must not forget it)
Use the result analysis feature to carefully analyze where you went wrong
Don't lose hope if you score less, eventually, you will get better.
Use the marks analysis feature to get your progress graph
How to Use the Marks Analysis Feature

Marks Analysis is one of the best features of the app which if used correctly can be very beneficial for your preparation. It shows you your progress card and you can compare it with other your aspirant friends.

Tip:- There is an easy way to access the Marks Analysis page from the sidebar

You can use the feature to check your average score across different subjects thus knowing your strong and weak area.

Make sure to check the marks analysis page at least once a week to know what you are doing good where you went wrong.
How to Use the Leaderboard Feature

Ranking in CrackitToday is dynamic and it changes with every test you attempt, You can see your rank move up and down depending on every test score.

Tip:- There is an easy way to access the Marks Analysis page from the sidebar

There are three rankings that you can target.

Daily Ranking – Reset every morning
Monthly Ranking – Reset on the 1st of Every Month (minimum 100 questions attempt)
All-Time Ranking – (minimum 100 questions attempt)

Aim for the top 3 in every ranking.
How to Use CrackitToday Cards
CrackitToday Cards uses a spaced repetition algorithm that is proven to be one of the best methods to remember things.
It forces you to spend more effort on hard questions and less effort on those which you can easily remember while maintaining a proper interval between the attempts so that you keep revising those questions which you are most likely to forget.
The image below will explain how this algorithm works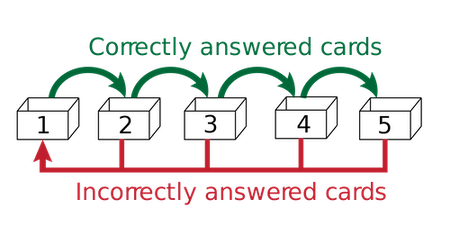 Cards are divided into 9 levels that can only be accessed on different days of the week.
Level 1 – Available every day
Level 2 – Available after 2 days,
Level 3 – Available after 4 days,
Level 4 – Available after 7 days,
Level 5 – Available after 14 days.
Level 6 – Available after 29 days.
Level 7 – Available after 45 days.
Level 8 – Available after 79 days.
Retired Cards – Available everyday (memorised by heart)
As shown above, when attempting the cards if you tap on "easy" it will get updated to the next level and if you tap on "hard" it will directly downgrade to level 1.
So, easier questions will move up to level 4 while harder questions will be in level 1 and around.
Combination of CrackitToday Card and CrackitToday Current Affairs + Test Series can be really beneficial for your UPSC Exam Preparation.
You can use the tabs navigation to quickly import questions from Crackittoday Test Series and facts from the Daily Current Affairs section to the cards section.
If used correctly and daily it can eliminate the task of making notes from the app.