UPSC is a name that gives nightmares to lakhs of aspirants. Oh.. yes it does. But what makes it so hard? Is it the examination pattern? is it their question pattern? is it their vast syllabus? Well, everyone has their own reason but one thing which all of us can agree on is for their respectable reputation. At a time when many other states' public service commissions are failing to provide quality service. UPSC never disappoints, be it with their on-time exam or quality of questions.
The first level of the UPSC IAS exam is the preliminary exam, commonly known as the Prelims Exam which is obviously an objective one and arguably this is the toughest part of the UPSC exam. But what makes it so tough?
It's the options.
Yes. Being an objective type exam you get four options to choose from. This might make things easy if you are appearing in any other exam but not for UPSC, here it makes things hard because the options are so closely related and confusing that you can make mistakes even if you know the answer and on top of that there is a negative mark of 1/3 which is like a cherry on the cake.
Have a look at this question asked in UPSC Prelims 2018
Which one of the following reflects the nicest, most appropriate relationship between law and liberty?
if there are more laws, there is less liberty.
If there are no laws, there is no liberty.
If there is liberty, laws have to be made by the people.
If laws are changed too often, liberty is in danger.
Here it looks like every option is correct but the answer is B. Why? because it is the nicest of the three.
So, How can you overcome this and make really fewer mistakes in such questions? In fact, there is a really simple solution to this its called
Practice
Yes, one thing that everyone sees and forgets. I know you will hear this everywhere but it is actually important that is why you hear it from everyone. The more you practice, the more you get familiar with UPSC Prelims questions pattern and in some time you will get to a point where you can easily mark the option as right or wrong and it will be right because so much practicing has made your thinking similar to that of UPSC.
Ok so you know you have to practice but the question is where to start with and what to practice?
How to Start Preparing for UPSC IAS 2024
Before doing anything else, you should as yourself do you really want to try for the toughest exam in the world because the preparation can be really tiring. If you are ready for preparation then you start with the following.
Download the latest UPSC Syllabus and read it, again and again, to get a basic idea of what UPSC is expecting from you.
Buy or Download NCERT (Old or New) Books of all subjects from 6th standard to 12th standard.
Choose the current affairs reference which you want to follow.
Start reading the stuff from the start so that you understand everything
Get a blank page notebook and start making notes.
Download the Crackittoday IAS Android app and start attempting daily quizzes.
This is how you can start with your preparation but you should know what to read and how to read that is what we will discuss below
What to Read for UPSC Prelims GS Paper
As for students' convenience UPSC, GS Syllabus has been divided into two major parts Static GK Questions and Current Affairs Questions.
Static GK is the part that stays static. You will learn it once and it will have a chance to appear also in the Prelims 2030 like the revolt of 1857 is something which will be relevant for ages.
Current Affairs is that part which loses relevancy with time like inter-governmental summit meetings which take from time to time.
Static GK Syllabus
Recent trends suggest that UPSC has been more biased towards current affairs-based questions but that doesn't make the Static GK part any less important and there are two reasons behind it
UPSC is the other name for unpredictability.
Learning Static GK will help you in understanding current affairs.
If you have no idea about the banking basics you will not understand what's going on with the current repo rate. You should have the base knowledge to understand the news. So at the end of the day, you have to perfect both the static GK and current affairs parts.
For the Static Part, it is best to start with NCERT books. Read every NCERT book from 6th to 12th Standard. This will help you understand the basics and you cannot go anywhere without getting your basics right. So make sure you thoroughly read these books before advancing.
Modern History GK Syllabus
Modern History comprises the British India timeline from around 1757 (Battle of Plassey) to 1947 (Independence). This is the part from where most of the history questions are asked so you have to learn this part by heart.
Here are the Sources/Books which I would recommend you to follow
Old NCERT 12th History of Modern History by Bipan Chandra – If you will learn every line of this book you can attempt 9/10 questions based on Modern History. It is old but it has still not lost its relevance to the exam.
Other than the above you can refer to the other books like India's Struggle for Independence: 1857-1947 by Bipan Chandra but I would recommend you to learn the same book twice before moving on to the new book.
Ancient/Medieval History GK Syllabus
Ancient History is also one of the most important topics for the prelims exam. Every year this topic is nicely covered in the exam and the same can be expected for the next year.
Medieval History has got really less portion of prelims exams but then again UPSC is the other name for unpredictability.
Here are the Sources/Books which I would recommend you to follow
For Ancient History – NCERT std 11th by RS Sharma. – This will not only help you for prelims but you will also find its relevance for the Mains exam.
For Medieval History – NCERT by Satish Chandra – If you will learn this book my heart it will be enough for the prelims exam
Economics GK Syllabus
Economics is one subject which can be your strength or weakness, it all depends if you got your basics right. According to me, it is one of those subjects in which you can't learn the concept from books. You need to go for the video lectures and once you have got the concept you can refer to other sources.
For Concept – Mrunal Lecture or any other Economics lecture online which you find easy
Once you have got the concept – Indian Economy by Ramesh Singh
The most important source you should follow is the News.
Polity GK Syllabus
Polity is one of those subjects from which you can score the highest marks for your prelims. Questions from this section are relatively straightforward and most certainly not confusing.
Here are the Sources/Books which I would recommend you to follow
Indian Polity by M.Laxmikanth – This one is called the bible of Indian Polity for civil service examination and rightly so it covers each and every aspect of the subject.
News – Polity is a current-based subject. Every now and then a new judgment comes which changes everything so you need to follow the news.
Environment GK Syllabus
If you will have a look at the past 5 years questions for UPSC GS prelims you will find that the majority of the questions have been asked from the Environment section which makes it one of the most important subjects for your preparation. Basically Environmental studies is a current based subject but you need to have the knowledge of Static environment part to understand the current affairs
Here are the Sources/Books which I would recommend you to follow
Shankar IAS Environment Notes – Grasp the basic concept from here.
NCERT 12th Biology: Last 4 Chapters – Recommended by everyone because it's really that important
News – This is from where most of the environment-based questions are asked
Geography GK Syllabus
Geography is the most diverse subject of all, It's like every physical thing that comes under the Sun can be grouped in this subject somehow. For the convenience of the exam, we can further group it into the following.
Physical Geography
Indian Geography
World Geography
Map-Based Questions
Physical Geography – GC Leong Physical Geography, If you are having trouble understanding it you can always refer to some of the good lectures you will find online.
Indian Geography – Geography of India by Majid Husain is a really nice book you should refer to.
World Geography – Refer to the news – UPSC generally asks questions based on the places seen in the news.
Map-Based Questions – More of a factual basis. There are two things which you should follow
Stick a Big map of India and the World and study it when you have free time. Like when you are brushing in the morning. Give attention to details.
Keep the Google map app handy. Whenever you see a place in the news always look it up in the google maps app and give attention to the places near it.
Art and Culture GK Syllabus
Art and Culture generally come under the Ancient/Medieval history part but it will be wise to read it separately as this topic is vast and has a nice weightage in the prelims exam.
Indian Art and Culture by Nitin Singhania covers the entire syllabus of Indian Heritage and Culture.
NCERT Class 11th Introduction to fine Arts as said earlier NCERT is a must and one should read it before anything else.
Science and Technology GK Syllabus
Science and tech is the most dynamic topic among all. Every year many questions are asked about this topic so even if you are from a science background never neglect the topic.
Here are the Sources/Books which I would recommend you to follow
Class 6–10 Science NCERTs + Class 12 Biology NCERT (only environment and biotechnology part).
Technology section in the daily newspaper 
S&T section of current affairs magazine for the major institutes like Vajiram or Rau
Other than these I don't think you need to study anything else when it comes to studying the Static GK Questions for the UPSC prelims exam but knowledge is something that no one should neglect so keep your curiosity high and learn about everything you come across.
Current Affairs Syllabus
Current affairs are the news that you see and neglect in your day-to-day life. There are many sources which you can follow for the current affairs but it would be of no use if you don't have any base knowledge about the same subject. Current affairs are most important for your UPSC exams as you can see from the last 5 years' paper majority of the questions have been asked from this section.
Here are the sources you should follow for the Current Affairs questions.
Newspaper, preferably, The Hindu – The holy grail of UPSC exams. It's most important because of the information you can gather from here.
Current affairs magazine from any good institute (Crackittoda, Vajiram, Rau, etc) – It has crisp and nicely written notes which will help you in the last moment
CrackitToday Daily current affairs – Each of the topics are thoroughly discussed here which will be helpful for both prelims and mains.
Most importantly you should focus on and research the news you hear in your day-to-life.
How to Read for UPSC Prelims GS Paper
Ok, now that you know what to learn, the next question comes which is how to learn.
You have seen the sources which I referred and I know that is too much for someone to read in so much less time but the thing is that you don't have an option here. You have to read and learn everything there is no shortcut to success. What I can help you with is giving you some key points on how to read and grasp everything so that you don't forget what you learn.
1. First of all, you have to forget that you are preparing for Prelims. Think that you learning for Mains because unlike other MCQ exams UPSC prelims are more conceptual based so just mugging up the one-liners won't help you here.
2. Make sure you get the concept of why and how of every topic, Ask yourself these two questions when you read a topic. There will be many questions in the exam that you haven't read. Here, if you have the concept of the topic you can apply your common sense and guess the answer right.
3. Always keep a pen in your hand even when you are just reading and not making notes and keep underlining, this will help you focus. We all are human beings and we tend to lose concentration, having a pen in your hand will help you concentrate
4. Make notes – This is the most important thing you should do. Everyone has their own style of writing notes, Follow your style and keep writing things in your notebook this will not only help you in remembering things but it will also help you in your revision.
5. Make multi-level notes – Yes more like noteception. Make even more concise notes from your notes. In the end, it should be as crisp as possible so that just by seeing that keyword you get the idea of the whole topic. This will help you in your last-minute revision so that your mind does not go blank in the
6. Revision is a must – Revise Daily. Don't leave the revision thing for the end as things will get complicated by the end. Keep revising daily about the things you learned in previous days.
7. Practice the MCQs – This along with the conceptual knowledge will improve your guesswork so that you can attempt those decisive questions that will decide your qualification.
There will be a time in your journey when you will study more than 12 hours a day and then will be days when you will just lay down in the bed doing nothing at all so don't worry these things are common and happen to everyone.
How to Practice IAS Prelims GK and Current Affairs MCQs
Maybe it will sound harsh but no matter how much you read, the majority of the questions you will find in the exam would be out of your syllabus. Yes because the syllabus is so enormous no matter how much you read you just can't read it all. So what to do?
Improvise your guesswork for intelligent guesswork.
If you have some idea about the topic from which the question is asked and you know the pattern with which the UPSC puts options then you can easily guess the right answer and this will be your intelligent guesswork. Let's now see how can you practice the questions.
Attempt Previous 10 years' questions
What place is better to practice UPSC IAS questions than UPSC itself? There are many books you will find which compile the previous 10 years' questions of UPSC Prelims GK questions. Attempt the questions, evaluate the answers and find why were you wrong.
If your evaluation says you have no idea about the topic then your knowledge is falling short so you should read about it (unless it's a current affairs question).
Download the Best UPSC Daily Quiz App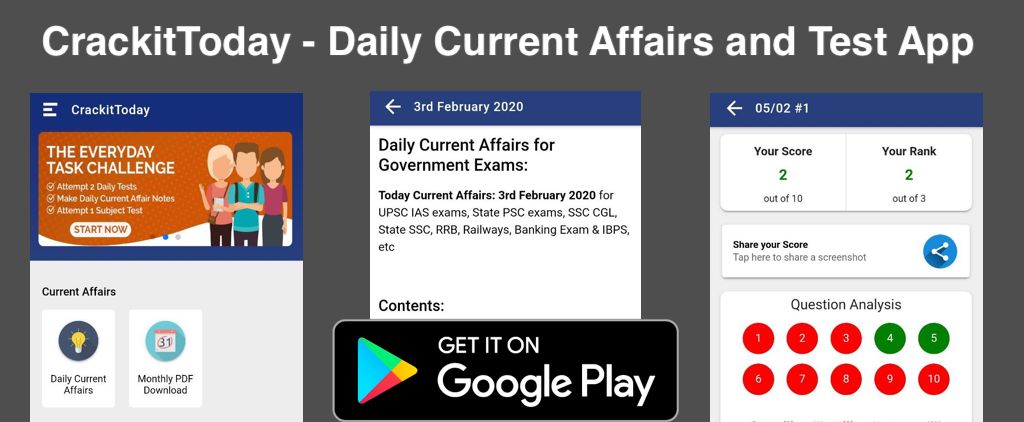 The best way to practice MCQs for UPSC is by doing it daily so it's recommended to attempt 10-20 questions daily on the topics which are relevant to your exam and there is an Android app that can help you here.
CrackitToday is an Android app that posts daily quizzes on GK and Current Affairs questions that are extremely relevant to the exam. What you just need to do is download the app and you are good to go.
Now every night when the daily quiz is posted you can attempt it and evaluate it. There is also a ranking feature in the app which lets you check your ranking among the other aspirants. This will help you know your standing.
You can Download the app from the Google Play Store
Join an Online UPSC Test Series
There are many test series that you will find online. Many of them are great while many of them are good for nothing. I would recommend you to Join Insights Test Series.
CrackitToday also runs a Test Series for its Ultimate users. Here you will find a mini-test series of 50 questions which is really nice if you want to practice while on the go.
In the early stage of your preparation, you might find your scores to be low in these test series or daily quizzes but be confident that with time, the more you will learn and better you will get in your attempt.
How to Prepare for UPSC Prelims CSAT Paper 2
Although paper 2 is only qualifying in nature and you have to score 33.3% of the marks to qualify but don't take it for granted. There are many students every year who can't qualify in prelims just because of paper 2. Yes, Paper 2 is easy but only if you have practiced enough. 
Start with solving the previous year's questions. Start a timer on your phone and solve the paper sincerely and have look at how much you can score. If you can easily score more than 50% then you are in the safe zone and do not need to study much, just some practice sessions 1 week before the exam will do enough for you.
Now, if you scored less than 50%, You have to study for this paper using the books and reference materials but first of all, let's have a look at the Syllabus for UPSC Prelims CSAT Paper 2.
IAS Prelims Paper 2 Syllabus 
Interpersonal skills including communication skills
Logical reasoning and analytical ability
Decision-making and problem-solving
General mental ability
Basic numeracy (numbers and their relations, orders of magnitude, etc.) (Class X level), Data interpretation (charts, graphs, tables, data sufficiency, etc. – Class X level)
On the whole paper 2 isn't tough but it's the time limit that causes the issue. You get only 2 hours to solve 80 questions which can be problematic to some of the students. This can be solved by knowing how to solve the questions and by practicing it.
Best CSAT Books for UPSC IAS Prelims Paper 2.
There are many books you will find online which can help you in cracking UPSC CSAT Paper 2. You should always keep one of them handy with you and read it when you have free time.
1. Cracking the CSAT Paper-2 by Arihant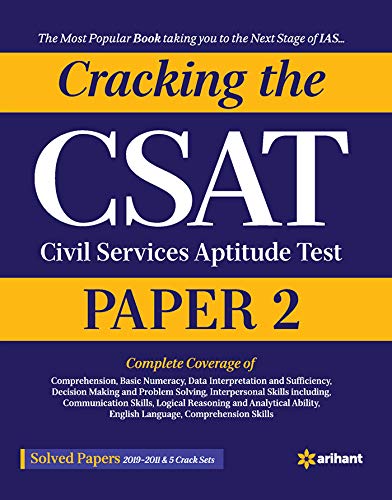 It is really a nice book and covers the entire syllabus of the CSAT exam. You can take a look at its table of content so that you can get an idea of whether it's for you or not.
Table Of Content
Solved Papers [2011-2019],
Comprehension,
Basic Numeracy,
General Mental Ability,
Data Interpretation & Sufficiency,
Decision Making & Problem-solving,
Interpersonal Skills including Communication Skills,
Logical Reasoning & Analytical Ability and English Language Comprehension,
Crack Sets (1-5) with detailed explanations.
2. 

General Studies Paper 2 2024: for Civil Services Preliminary Examination by McGraw – Hill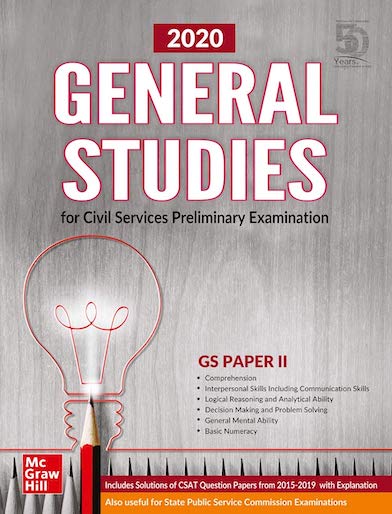 General Studies Paper 2 2024 covers the complete syllabus prescribed by the UPSC for Preliminary Examination. The New edition comes with new comprehension passages as per the changed examination pattern.
Features of the book as stated by the writer
Includes 2019 Question Paper with solutions and frequency analysis
A deeper analysis of the previous year's questions and the emerging trends, to prepare Model tests and questions accordingly.
Includes frequency analysis and solutions of the question papers from 2011 to 2019.
Accuracy of content and information with an abundance of modular practice sessions.
If you don't understand it from books you can always refer to video tutorials you will find on online platforms like Youtube, Unacademy, etc.
Once you will prepare for this paper for at least a month you will easily find yourself among those who scored more than 50% solving the previous year's questions.
Final Tips for your IAS Prelims Preparation
Don't panic. Rome was not built in a day, so it will take you time to reach there.
Study for yourself not for the exam. Ultimately you will gain knowledge that will help you everywhere not just in exams.
UPSC preparation changes the perception through which you look at the world, stop and cherish it for a while
Don't lose hope if you don't succeed in your first attempt, there is always a second attempt
You will find information related to your exam everywhere also when you are browsing Facebook, Note it down so you don't forget
If you have the accessibility then use technology to keep your notes digital and organized. Pages are pages and they get lost.
Use your phone wallpaper to remember hard facts like using the preamble as your phone wallpaper.
Make your room a book. Stick facts are everywhere on the wall.
Give your health priority. Ultimately "Health is Wealth".
Keep studying, revising, and practicing, If you are 100% committed to these three things no one can stop you from succeeding.
This was a concise guide on how to crack the IAS prelims exam 2024. I hope that you found it easy to understand. The things I told you were all just recommendations and its perfectly fine if you want to follow your own approach, everyone is different and has their own style of doing things. Do what you love and love what you do.