Promote Common Security Through Dialogue And Cooperation : UNSC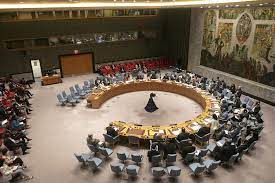 India's Permanent Representative to the UN addressed a United Nations Security Council (UNSC) meeting on the topic 'Promote Common Security Through Dialogue and Cooperation.
The UNSC meeting was convened at the behest of China, the president of the Security Council for August 2022 and a veto-wielding member of the 15-member Council.
All countries should respect each other's sovereignty and territorial integrity and respect international agreements.
Common security was only possible when countries stand together on terrorism and do not practice double standards on the issue and when they do not take unilateral measures to back out of agreements.
India called for multilateral reform, particularly at the Security Council, saying common security among nations could not be aspired for if the common good of the global south was denied representation.
The most urgent thing is to make the Security Council more representative of developing countries so as to reflect current geopolitical realities, the African continent should also have permanent representation on the Council.
An armed conflict in one part of the world has cascading effects on the people of another.
The impact of the Crisis in Afghanistan is still being felt throughout the region.
China has repeatedly blocked the attempts of India and the US at the UN to blacklist Pakistan-based terrorists.
While emphasizing on Common Security, India targeted China, which has violated border pacts by amassing its military in eastern Ladakh in 2020.
The eastern Ladakh border standoff between India and China erupted on 5th May, 2020, following a violent clash in the Pangong lake areas.
Both sides gradually enhanced their deployment by rushing in tens of thousands of soldiers as well as heavy weaponry.
China claims nearly all of the disputed South China Sea, though Taiwan, the Philippines, Brunei, Malaysia and Vietnam all claim parts of it.