Samagra Shiksha Scheme 2.0: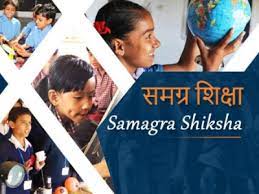 The Cabinet Committee on Economic Affairs has approved the school education programme Samagra Shiksha Scheme 2.0 till the 2025-26 financial year.
It has been upgraded to align it with the Sustainable Development Goal for Education and the new National Education Policy launched in 2020.
About Samagra Shiksha Scheme:
It is an integrated scheme for school education covering the entire gamut from pre-school to class XII.
It aims to deliver inclusive, equitable, and affordable school education.
It subsumes the three Schemes of Sarva Shiksha Abhiyan (SSA), Rashtriya Madhyamik Shiksha Abhiyan (RMSA) and Teacher Education (TE).
The scheme covers 1.16 million schools, over 156 million students and 5.7 million Teachers of Govt. and Aided schools (from pre-primary to senior secondary level).
It is being implemented as a centrally sponsored scheme. It involves a 60:40 split in funding between the Centre and most States. It was launched by the Ministry of Education in 2018.
About Samagra Shiksha Scheme 2.0:
Direct Benefit Transfer (DBT):

In order to enhance the direct outreach of the scheme, all child-centric interventions will be provided directly to the students through DBT mode on an IT-based platform over a period of time.
This DBT would include RTE (Right to Education) entitlements such as textbooks, uniforms and transport allowance.
On NEP Recommendations:
Encouraging Indian languages:

It has a new component for appointment of language teachers, which includes salaries, and training costs as well as bilingual books and teaching learning material as recommended in NEP.

Pre-primary Education:

It will now include funding to support pre-primary sections at government schools, i.e. for teaching and learning materials, indigenous toys and games and play-based activities.
Master trainers for pre-primary teachers and anganwadi workers will be supported under the scheme.

NIPUN Bharat Initiative:

Under this initiative, an annual provision of Rs. 500 per child for learning materials, Rs. 150 per teacher for manuals and resources and Rs. 10-20 lakh per district will be given for assessment for foundational literacy and numeracy.

On Digital Initiatives:

There is a provision for ICT labs and smart classrooms, including support for digital boards, virtual classrooms and DTH channels which have become more important in the wake of the Covid-19 pandemic.

For out-of-school children:

It includes a provision to support out of school children from age 16 to 19 with funding of Rs. 2000 per grade to complete their education via open schooling.
There will also be a greater focus on skills and vocational education, both for students in school and dropouts.