Jammu And Kashmir (J&K) Completing Two Years As Union Territory: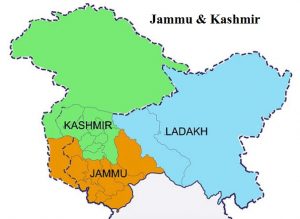 The Forum for Human Rights in J&K (FHRJK) released its report a day ahead of Jammu and Kashmir (J&K) completing two years as Union Territory.
The report raised concerns about the militancy that continues to remain a major challenge in J&K.
FHRJK is an independent body co-chaired by former Supreme Court judge Justice Madan B. Lokur and former Kashmir interlocutor Radha Kumar.
On 5 August 2019, the government of India revoked the special constitutional status of the erstwhile state of Jammu and Kashmir under Article 370 of the Constitution, and abrogated Article 35A.
Article 35A had allowed J&K to define who its 'permanent residents' are and what rights and privileges are attached to such residency.
The former state was bifurcated into the Union Territories of Ladakh (without a legislature) and Jammu-Kashmir (with a legislature).
Concurrently, the Indian government imposed a near-total telecommunications lockdown in the region, detained political leaders and dissidents, and enforced Section 144 of the Indian Penal Code to prevent violent unrest.
Findings from the Report:
The reports raised concerns regarding human rights abuses, arbitrary detentions, prohibition on assembly and censorship on local media houses in J&K.
The government has taken several positive steps, but they fell short of expectations.
It also held that the counter-insurgency concerns continue to be given priority over public, civilian and human security.