The United Nations General Assembly: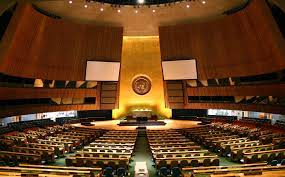 India has decided to vote in support of Maldives' Foreign Minister Abdulla Shahid in the election of the President of the United Nations General Assembly.
This time the UNGA head will be chosen from the Asia-Pacific grouping.
Asia- Pacific group of the UN:
Consists of 53 Member States and is the second largest regional group by number of member states after the African Group.
Its territory is composed of much of the continents of Asia and Oceania with the exception of a few countries.
About UNGA:
The General Assembly is the main deliberative, policymaking and representative organ of the UN.
All 193 Member States of the UN are represented in the General Assembly, making it the only UN body with universal representation.
The President of the General Assembly is elected each year by assembly to serve a one-year term of office.
The presidency rotates annually between the five geographic groups: African, Asia-Pacific, Eastern European, Latin American and Caribbean, and Western European and other States.