United Nations General Assembly: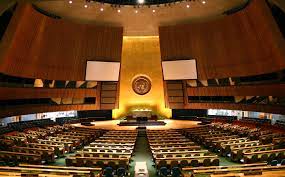 The President of the United Nations General Assembly (UNGA), praised India for its contributions to the global body.
He described India as a "source of pride" not only for South Asia but for all peace-loving democracies.
India was 1st country to raise Apartheid issue at UN.
More than 2 lakh troops to 49 UN peacekeeping missions.
India (in 2007) was the 1st country to deploy all women contingent to UN mission in Liberia.
He acknowledged the crucial role India played during the Covid-19 pandemic.
India not only recovered from the disease itself but even assisted several other countries and acted as a "pharmacy of the world".
UNCTAD: India was instrumental in setting up of UNCTAD (1964)
India drafted Comprehensive Convention on international Terrorism.
India is collaborating with G4 and L69 countries on reform and expansion of UN security council.
United Nations General Assembly (UNGA):
The General Assembly is the main deliberative, policymaking and representative organ of the UN.
The President of the General Assembly is elected each year by assembly to serve a one-year term of office.