Young Professionals Exchange In 2023 : United Kingdom And India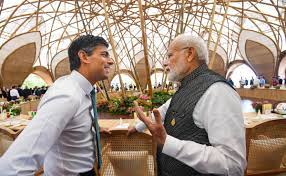 United Kingdom (UK) and India decided to launch a Young Professionals Exchange in 2023.
UK will offer 3000 degree-holding Indians in the 18-30 year age group places to work for up to two years.
The scheme will commence in early 2023 and be on a reciprocal basis.
India is a key strategic partner for the UK in the Indo-Pacific both in terms of market share and defence, as was underscored by the signing of the Defence and International Security Partnership between India and the UK in 2015.
For Britain, a successful conclusion of an Free Trade Agreement (FTA) with India would provide a boost to its 'Global Britain' ambitions as the UK has sought to expand its markets beyond Europe since Brexit.
Britain has been trying to seize opportunities in the growing economies of the Indo-Pacific to cement its place on the global stage as a serious global actor.
The British would be better able to achieve this goal with good bilateral relations with India.
For India: The UK is a regional power in the Indo-Pacific as it possesses naval facilities in Oman, Singapore, Bahrain, Kenya, and British Indian Ocean Territory.
The UK has also confirmed USD 70 million of British International Investment funding to support the usage of renewable energy in India, which will help in building renewable energy infrastructure and developing solar power in the region.
India has sought easy market access for Indian fisheries, pharma, and agricultural products besides duty concession for labour-intensive exports.