BHARAT Campaign: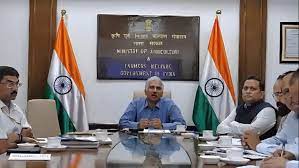 Ministry of Agriculture & Farmers Welfare launched a new campaign for banks under Agriculture Infrastructure Fund titled BHARAT (Banks Heralding Accelerated Rural & Agriculture Transformation).
BHARAT campaign is a one month-long Campaign with a target of Rs 7200 crore.
It aims to get active involvement and support of members of commercial Banks in the public and private sector, Regional Rural Banks, Small Finance Banks, NBFCs and select cooperative Banks in promoting the Scheme of Agriculture Infrastructure Fund.
Agriculture Infrastructure Fund is a Central Sector Scheme which was launched in 2020
The scheme shall provide a medium – long term debt financing facility for investment in viable projects for post-harvest management Infrastructure and community farming assets through interest subvention and financial support.
The duration of the Scheme shall be from FY2020 to FY2032 (10 years).
All loans under this financing facility will have interest subvention of 3% per annum up to a limit of Rs. 2 crores. This subvention will be available for a maximum period of seven years.
Further, credit guarantee coverage will be available for eligible borrowers from this financing facility under Credit Guarantee Fund Trust for Micro and Small Enterprises (CGTMSE) scheme for a loan up to Rs. 2 crores. The fee for this coverage will be paid by the Government.