BRIGHT STAR-23: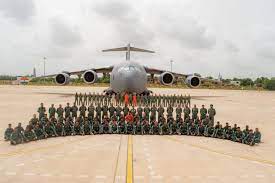 As per recent reports, thirty-four countries including India will participate in the joint military exercise, BRIGHT STAR-23.
BRIGHT STAR-23:- 31 August to 14 October 2023.
Venue: Mohammed Naguib Military Base,
Indian Army contingent comprising 137 personnel will participate in a military exercise.
It is a multinational tri-services joint military exercise.
It will be led by US CENTCOM and the Egyptian Army.
This year 34 countries will participate in the Exercise.
It will be the largest-ever joint military exercise in West Asia and North Africa region.
This is the first time that the Indian Armed Force with 549 personnel participated in the exercise.
During the exercise participating countries will share the best practices to combat emerging unconventional threats and enhance regional partnerships.
The exercise will provide a unique opportunity for the Indian Army to share best practices and experiences with other armies aimed at enhancing defense cooperation.