Exercise BRIGHT STAR-23: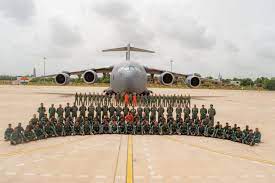 An Indian Air Force (IAF) contingent departed to participate in Exercise BRIGHT STAR-23, scheduled to be held at Cairo (West) Air Base, Egypt, from 27 August to 16 September 2023.
EXERCISE BRIGHT STAR-23 is a biennial multilateral tri-service exercise.
This multinational exercise was launched in 1980 as part of the US-brokered peace treaty between Egypt and Israel.
This is the first time that IAF is participating in Ex BRIGHT STAR-23.
Participating countries: United States of America, Saudi Arabia, Greece and Qatar.
The Indian Air Force contingent will consist of five MiG-29, two IL-78, two C-130 and two C-17 aircraft.
Personnel from the IAF's Garud Special Forces, as well as those from the Numbers 28, 77, 78 and 81 Squadrons, will be participating in the exercise.
Objective is to practice planning and execution of joint operations. Besides leading to the formation of bonding across borders, such interactions also provide a means to further strategic relations between participating nations.
India and Egypt have had an exceptional relationship and deep cooperation wherein the two jointly undertook the development of aero-engine and aircraft in the 1960s, and training of Egyptian pilots was done by Indian counterparts.