The Commission For Air Quality Management In National Capital Region And Adjoining Areas Bill 2021: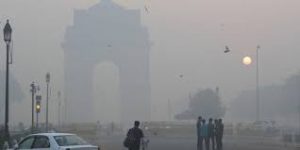 The Commission for Air Quality Management in National Capital Region and Adjoining Areas Bill 2021 was introduced in the Lok Sabha by Minister of Environment, Forest and Climate Change.
The bill aims for the constitution of a commission for better coordination, research, identification and resolution of problems related to air quality in the national capital region and adjoining areas.
The commission shall consist of a full-time chairperson having experience of not less than 15 years in the field of environment protection and pollution control or having administrative experience of not less than 25 years.
The chairperson or a member, other than an ex officio member, shall hold office for a term of three years from the date on which he enters upon his office or until he attains the age of 70 years, whichever is earlier, and shall be eligible for re-appointment.
Adjoining areas refers to Uttar Pradesh, Haryana, Punjab and Rajasthan where any source of pollution may cause adverse impact on air quality in the NCR.
Once passed, the bill will replace an ordinance issued in the recent past.
According to the new Bill, "the commission may impose and collect environmental compensation from farmers causing air pollution by stubble burning, at such rate and in such manner, as may be prescribed".