Digital Divide: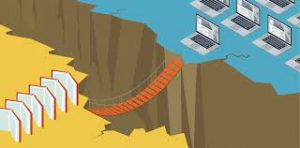 The Supreme Court has flaggedthe consequences of growing digital divide.
It observed, the digital divide caused by online classes will defeat the fundamental right of every child to education
Little children whose parents are too poor to afford laptops, tablets or an "optimum" Internet package at home for online classes during the pandemic have dropped out of school and even run the danger of being drawn into child labour or worse, child trafficking.
Even, the right to education has now hinged on who could afford "gadgets" for online classes and who could not.
The court was hearing a petition filed by private school managements challenging a Delhi High Court order of September 2020, directing them to provide their 25% quota EWS/DG students online facilities free of cost.
The High Court had said the schools could get reimbursement from the government.
The Delhi government had said it had no resources to reimburse the schools for the online gadgets.
Though the Supreme Court had stayed the High Court order in February 2021, the court said both the Centre and States such as Delhi could not bow out of their responsibilities towards children.