Digital Agriculture: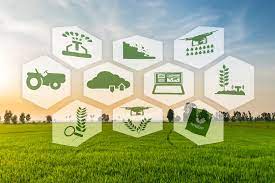 The Agriculture Ministry signed agreements with Reliance's Jio Platforms, ITC, Cisco, NCDEX e-Markets and Ninjacart to develop agritech solutions using its National Farmers Database, which includes information of 5.5 crore farmers.
This is part of an effort to modernise the agriculture sector by infusing new technologies so that farmers can increase their income, Agriculture Minister Narendra Singh Tomar said.
The pilot projects including one to monitor soil conditions and another to help on post harvest linkages are part of the Digital Agriculture Mission and will draw on the National Farmers Database.
The Centre has asked States to attach land records to the database, to grow it to 8 crore farmers.
National Commodity & Derivatives Exchange Limited (NCDEX) is an Indian online commodity and derivative exchange based in Mumbai.
It is under the ownership of Ministry of Finance , Government of India.