E-waste Management rules 2022: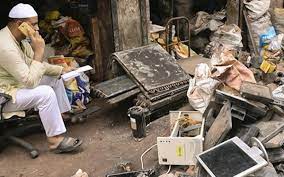 The government has notified E-waste (management) rules 2022, which will come into force from 1 April next year and apply to every manufacturer, producer , dismantler and recycler of e-waste
Key provisions of the Rules:
Restricted the use of hazardous substances (such as lead, mercury, and cadmium) in manufacturing electrical and electronic equipment that have an adverse impact on human health and the environment.
Increased the range of electronic goods covered e.g., laptops, mobile, cameras etc.
Producers of electronic goods have to ensure at least 60% of their electronic waste is collected and recycled by 2023 with targets to increase them to 70% and 80% in 2024 and 2025, respectively.
Companies will report these on an online portal.
Extended Producer Responsibility Certificates (similar to carbon credit mechanism): This will allow the offsetting of e-waste responsibility to a third party.
'Environmental compensation' to be provided by the companies that don't meet their target.
Role of State Governments: They will earmark industrial space for e-waste dismantling and recycling facilities, undertaking industrial skill development and establishing measures for protecting the health and safety of workers engaged in the dismantling and recycling facilities for e-waste.
Role of manufacturers:

Make the end product recyclable
A component made by different manufacturers be compatible with each other

Role of Central Pollution Control Board: It shall conduct random sampling of electrical and electronic equipment placed on the market to monitor and verify the compliance of reduction of hazardous substances provisions.