eSARAS Mobile App: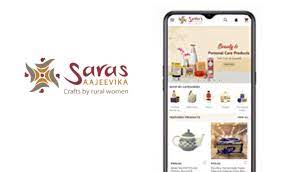 eSARAS mobile App was launched by the Secretary of Union Ministry of Rural Development, Government of India at New Delhi.
eSARAS App is an e-commerce mobile app which will be used as a more effective platform for marketing of the products made by women of self-help groups.
It is an initiative conceptualized by the DAY-NRLM, Ministry of Rural Development (MoRD), towards the marketing of the best, authentic handicrafts and hand-looms.
This initiative promotes the spirit of Vocal for Local even further with easier marketing of products prepared by SHGs
Along with that eSARAS Fulfilment Centre was also inaugurated.
These centres will be managed by the Foundation for Development of Rural Value Chains.
FDRVC – a Not for Profit Company constituted jointly by Ministry of Rural Development and Tata Trust.
This centre will be used for processing, packaging and shipping of products that customers purchase through the eSARAS Portal and eSARAS mobile App.
It will handle the logistics required to bring an online order to a customer's doorstep.
DAY-NRLM scheme:
Deendayal Antyodaya Yojana – National Rural Livelihoods Mission (DAY-NRLM) is the flagship program of the Ministry of Rural Development.
Its aim is promoting poverty reduction through building strong institutions for the poor, particularly women, and enabling these institutions to access a range of financial services and livelihoods.