Karnala Bird Sanctuary : Bird Count Report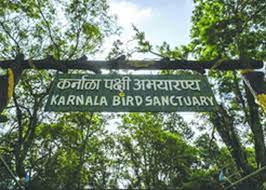 The recent annual scientific bird count report covering three seasonal bird counts at the Karnala Bird Sanctuary finds a total of 187 species of birds.
Karnala Bird Sanctuary is located in the Raigad District of Maharashtra.
It is a habitat of woodland birds in the Western Ghats & was one of the favoured areas of well-known ornithologist Dr Salim Ali.
It also forms a catchment area of the Patalganga River.
Flora: The Sanctuary area is covered with mixed deciduous forest.
Fauna: Globally threatened and endemic birds like Long Billed Vultures, Malabar Gray Hornbill, Small Sun Bird and Shahin Falcon birds spp. are found in Karnala Bird Sanctuary.