Vedanthangal Bird Sanctuary : Tamil Nadu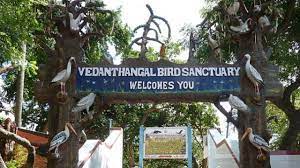 The Environment Ministry's Expert Appraisal Committee has recommended grant of environment clearance for Sun Pharmaceuticals Industries Ltd.'s expansion project in Tamil Nadu's Madurantakam taluk, around 3.7 km from the Vedanthangal Bird Sanctuary.
Vedanthangal Bird Sanctuary is a 74-acre protected area located in the Madurantakam taluk of the Chengalpattu District in the state of Tamil Nadu.
Vedanthangal is home to migratory birds such as pintail, garganey, grey wagtail, blue-winged teal, common sandpiper and the like.
Vedanthangal is the oldest water bird sanctuary in the country.
Vedanthangal in Tamil language means 'hamlet of the hunter'.