Kerala's Aralam Wildlife Sanctuary : Maoists Attack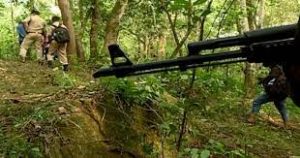 Suspected Maoists launched an attack on forest watchers in Kerala's Aralam Wildlife Sanctuary, near the Chavachi area.
These Maoists have been increasingly active in and around the Aralam Wildlife Sanctuary, even infiltrating local houses and engaging in activities like distributing propaganda materials.
The Kerala government deployed Kerela Thunderbolts force and helicopters to locate those responsible.
Aralam Wildlife Sanctuary is the northernmost wildlife sanctuary of Kerala (in the Kannur District).
It is 55 km² in area and located on the western slope of the Western Ghats.
It was established in 1984 with its headquarters near Iritty.
The sanctuary borders Wayanad-Brahmagiri, Wayanad's north slopes, Karnataka's Brahmagiri Wildlife Sanctuary, and Coorg's forests, with Katti Betta as its highest peak.