Ramakrishna Mission's Awakening Programme: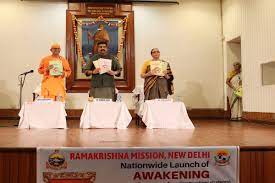 The Union Minister for Education launched Ramakrishna Mission's 'Awakening' Programme for school students.
It is an initiative towards ensuring overall personality development of a child in line with the philosophy of National Education Policy (NEP), 2020.
It is for the students of classes I to V.
Ramakrishna Mission, Delhi branch, from 2014 onwards, has been successfully conducting the Awakened Citizen Program (ACP) for middle school students to enable them to build "ATMASHRADDHA" (Self-esteem) and make responsible choices.
It helps them to find solutions for all problems of life.
There has been a demand from educationists for a similar program for Primary school students.
In response to this, 'Awakening' has been designed and piloted across 126 schools.