MISHTI Scheme For Mangrove Plantations: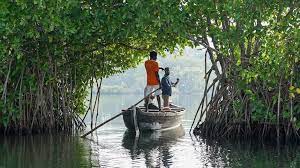 Mangrove Initiative for Shoreline Habitats & Tangible Incomes', MISHTI, will be taken up for mangrove plantation along the coastline and on salt pan lands
Mangroves:
The Mangroves cover 0.15% of the total Indian Geographical area.
This is around 4,975 square kilometers.
The state of West Bengal alone has 42.45% of India's mangroves. Indian mangroves are facing limitations such as an increase in salinity, lack of oxygen, and diurnal tidal inundations.
The main aim of the scheme is to take up mangrove plantations along the coastline and to preserve Mangrove forests
Meaning, mangrove saplings will be planted along the coastal regions of the country.
Mangrove forests are spread across AP, WB, Odisha, Andaman and Nicobar, Goa, Karnataka, Kerala, Maharashtra, and Tamil Nadu.
Mangrove forests are present in all the coastal states of India.
MISHTI is to be implemented by converging CAMPA Fund, MGNREGS, and other sources.
CAMPA Fund means Compensatory Afforestation Fund Management and Planning Authority.