SAUBHAGYA Scheme: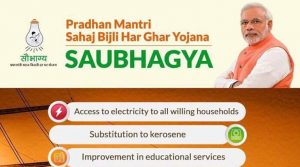 The Pradhan Mantri Sahaj Bijli Har Ghar Yojana (SAUBHAGYA Scheme) has successfully completed four years of its implementation.
2.82 crore households have been electrified since its launch till 31st March, 2021.
It was launched in 2017 to ensure electrification of all households in the country in rural as well as urban areas.
Objectives:

Achieving Universal Household Electrification in the country, through last mile connectivity.
Providing access to electricity to all un-electrified households in rural areas and poor households in urban areas.

Beneficiaries:

They are identified using Socio Economic and Caste Census (SECC) 2011 data.
However, un-electrified households not covered under the SECC data would also be provided electricity connections under the scheme by paying Rs 500.