MSME RuPay Credit Card: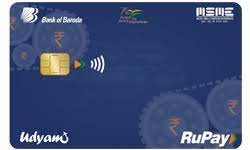 The Ministry of Micro Small and Medium Enterprises (MSME), in association with the National Payment Corporation of India (NPCI) had launched the MSME RuPay Credit Card on a pilot basis, pan-India for Udyam registered MSMEs.
The MSME RuPay Credit Card provides a simplified payment mechanism to MSMEs to meet their business-related operational expenses like digital payments, utility bills payments, tax/statutory payments, etc.
MSME borrowers also take benefit of interest-free credit period on their business spending as per the bank's policy.
NPCI, an umbrella organization for operating retail payments and settlement systems in India, is an initiative of the Reserve Bank of India (RBI) and Indian Banks' Association (IBA) under the provisions of the Payment and Settlement Systems Act, 2007, for creating a robust Payment & Settlement Infrastructure in India.