N-Treat Technology: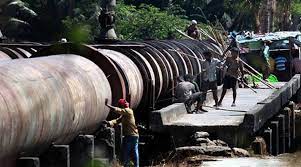 IIT-Bombay to help treat Mumbai's sewage with new technology.
N-Treat is a seven-stage process for waste treatment that uses screens, gates, silt traps, curtains of coconut fibres for filtration, and disinfection using sodium hypochlorite.
The first stage involves screening to prevent the entry of floating objects such as plastic cups, paper dishes, polythene bags, sanitary napkins, or wood.
The second stage has proposed the construction of a silt trap, which creates an inclination and 'parking spot' on the bed of the nullah for sedimentation.
The next three stages are the installation of 'bio zones' in the form of coconut fibre curtains that will act as filters and promote the growth of biofilm to help in the decomposition of organic matter.
The final stage for sewage treatment will include disinfection using sodium hypochlorite, to kill the bacteria in the water.