National Workshop On Localization Of Sustainable Development Goals In Gram Panchayats: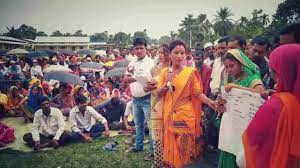 A three-day National Workshop on Localization of Sustainable Development Goals in Gram Panchayats through Adopting Thematic Approaches: Theme 1: Poverty Free and Enhanced Livelihood Gram Panchayats is being organised during 14 – 16 November, 2022 at CIAL Convention Centre, Kochi, Kerala.
The workshop aims to create awareness on the national level importance of addressing

marginalisation – inclusion and access to basic services, social safety nets and protection systems – leveraging National Social Assistance Programme (NSAP), Mahatma Gandhi National Rural Employment Guarantee Scheme (MGNREGS) and National Rural Livelihoods Mission (NRLM) through Panchayats, and
livelihoods – the role of Panchayats in addressing income inequality & poverty, eradicating extreme poverty and improving employment opportunities for poor, vulnerable and marginalized sections and
building resilience of vulnerable communities against the sudden shocks brought about by disasters and extreme climate events.
Sustainable Development Goals:
Sustainable Development Goals adopted by United Nations came into effect from January 1, 2016.
Ministry of Panchayat Raj, Government of India has adopted thematic approach to SDGs – It is approach to ensure 'local action' for achieving 'global plan'.
The approach aims to localise SDGs in rural areas through PRIs, especially Gram Panchayats by clubbing 17 'Goals' into '9 Themes'.
Appropriate policy decisions and revisions have followed resulting into revamping of Rashtriya Gram Swaraj Abhiyan (RGSA) and Gram Panchayat Development Plan (GPDP) Guidelines which smoothens the process of Localisation of Sustainable Development Goals (LSDGs) in Gram Panchayats.