Operation Ganga: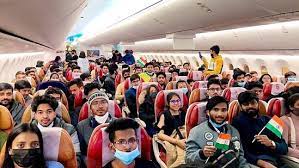 The Government of India has launched a 'multi-pronged' initiative named 'Operation Ganga'.
A dedicated Twitter handle 'OpGanga Helpline' to assist Indian evacuation from Ukraine has also been announced.
The tensions between Russia and Ukraine are currently heightened, with war erupting in Ukraine after the Russian military launched a series of attacks recently.
Operation Ganga is an evacuation mission to bring back all the Indian nationals who are currently stranded in Ukraine.
There were around 20,000 Indians including students stuck in Ukraine.
Till now, three Air India flights have been able to bring back more than 900 Indians from Ukraine to India.
The Indian evacuation flights are operating from neighbouring countries like Romania and Hungary.
The government is also facilitating evacuation of stranded Indians from its borders crossing Romania, Hungary, Poland and Slovakia.