World NGO Day: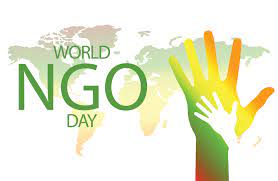 Every year, 27th February is observed as the World NGO day all over the world.
India has over three million Non-Governmental Organisations (NGO) that work across a range of arenas and play important roles of facilitator, catalyst or partner in bringing social transformation.
The day assumed its official status when 12-member countries of the IX Baltic Sea NGO Forum on 17th April 2010 formally recognised it.
In 2012, the forum's Final Statement Resolution adopted the day.
Although the day was recognised officially in 2010, it was only in 2014, that for the first time World NGO Day was observed by the United Nations.
The main man behind this day was Marcis Liors Skadmanis, an UK-based social entrepreneur, who inaugurated the 2014 World NGO Day.
The day was conceived to spread awareness of the tremendous contributions of NGOs all around the world and honour the relentless efforts of the social workers both in the public and private sectors.