Picocystis Salinarum: Green Algae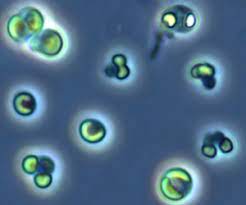 A young researcher has divulged the secret of how the Picocystis Salinarum survives the harshest of conditions by resorting to physiological adaptation to highly saline-alkaline/hyperosmotic conditions.
Picocystis Salinarum is a globally widespread picoplanktonic green algae of saline lakes.
It is one of the smallest green algae.
It is found in hypersaline soda lake Sambhar, Rajasthan, to survive extreme environments.
Though the algae had been widely found in saline-soda lakes around the world, it was spotted for the first time in India only in the Sambhar Lake.
The unique organism apparently enhances photosynthesis and ATP synthesis along with chaperone proteins as key response to high salinity-alkalinity.
Enhanced photosynthetic activity exhibited by P. salinarum in highly saline-alkaline condition is noteworthy as photosynthesis is suppressed under hyperosmotic conditions in most photosynthetic organisms.