Green Hydrogen: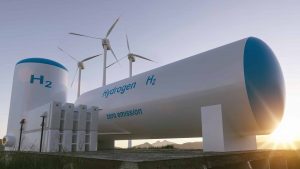 At the World Economic Forum in Davos, Switzerland, Minister of Petroleum and Natural Gas Hardeep Singh Puri said India will emerge as the leader of green hydrogen by taking advantage of the current energy crisis across the globe.
The 'green' depends on how the electricity is generated to obtain the hydrogen, which does not emit greenhouse gas when burned.
Green hydrogen is produced through electrolysis using renewable sources of energy such as solar, wind or hydel power.
In April Oil India Limited (OIL) commissioned India's first 99.99% pure green hydrogen plant in eastern Assam's Jorhat.
India has just begun to generate green hydrogen with the objective of raising non-fossil energy capacity to 500 gigawatts by 2030.
The National Hydrogen Mission was launched on August 15, 2021, with a view to cutting down carbon emissions and increasing the use of renewable sources of energy.
Hydrogen can be 'grey' and 'blue' too.
Grey hydrogen is generated through fossil fuels such as coal and gas and currently accounts for 95% of the total production in South Asia.
Blue hydrogen, too, is produced using electricity generated by burning fossil fuels but with technologies to prevent the carbon released in the process from entering the atmosphere.