PM-National Apprenticeship Mela: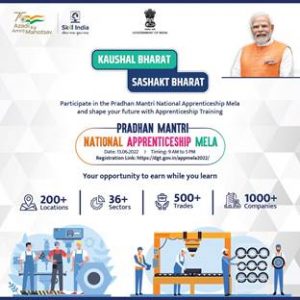 Central Government to organise PM-National Apprenticeship Melas on October 10
It is being organised by the Ministry of Skill Development and Entrepreneurship, as part of the Skill India Mission to boost career opportunities and practical training among the youth.
Every month, the apprenticeship mela will be hosted wherein selected individuals will receive a monthly stipend in accordance with government criteria for gaining new skill.
To be eligible to apply, the students must have a 5th-12th grade pass certificate, a skill training certificate, an ITI Diploma, or a graduate degree to participate.
Candidates will also earn National Council for Vocational Education and Training (NCVET)-recognized certifications, improving their employability after the training.
The National Apprenticeship Promotion Scheme (NAPS), launched in 2016, aims to promote apprenticeship training in the country by providing stipend support to the apprentices, undertake capacity building of the apprenticeship ecosystem and provide advocacy assistance to support rapid growth.
Objectives:

To develop skilled manpower for the industry by promotion of on-the-job experiential training.
To encourage establishments to enrol apprentices by sharing partial stipend support to the apprentices.
To provide up-skilling opportunities for candidates who have undergone short-term skill training.
To encourage enrolment of apprentices in small establishments (MSMEs), and those located in under served areas like in aspirational districts and in North-East region.