Pradhan Mantri National Apprenticeship Mela: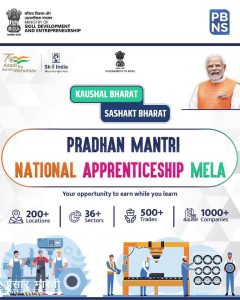 Pradhan Mantri National Apprenticeship Mela was organised across 200 locations across India on June 13th, 2022.
The Ministry of Skill Development and Entrepreneurship will be organising the Pradhan Mantri National Apprenticeship Mela every month now on.
It's objective is to connect the youth with more opportunities of on-ground training within corporates and further a chance to get employment.
Individuals having a 5th–12th grade pass certificate, a skill training certificate, an ITI Diploma, or a graduate degree can apply for an interview across these trades/opportunities.
The candidates will be given a choice of 500+ trades, including welders, electricians, housekeepers, beauticians, mechanics, and others.
Candidates will also receive Apprenticeship certificates recognised by the National Council for Vocational Education and Training (NCVET) at the end of their training period, which will give them industry recognition.
A credit bank concept will also be introduced soon, with a depositary of various credits accumulated by learners that can be used for future academic pathways.