Protection Of Children From Sexual Offences Act (POCSO):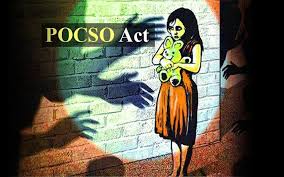 The Supreme Court quashed a Bombay High Court decision to acquit a man charged with assault under the Protection of Children from Sexual Offences Act (POCSO) solely on the grounds that he groped the child over her clothes without "skin-to-skin" contact.
"The act of touching a sexual part of the body with sexual intent will not be trivialised and not excluded under Section 7 of the POCSO Act," the Bench held.
Section 7 mandates that "whoever with sexual intent touches the vagina, penis, anus or breast of the child or makes the child touch the vagina, penis, anus or breast of such person or any other person, or does any other act with sexual intent which involves physical contact without penetration is said to commit sexual assault".
It also observed that the "purpose of law is not to allow the offender to sneak out of the mesh of law".
The court said limiting the ambit of "touch" to a narrow and pedantic" definition would lead to an "absurd interpretation". The Bench noted that the most important ingredient in Section 7 was the sexual intent of the offender and not skin-to-skin contact.
The conclusion that "sexual intent" mentioned in the provision should be ex facie skin to skin would defeat the object of the provision.
It would, rather than giving effect to the rule, destroy it.