Rooftop Solar Scheme: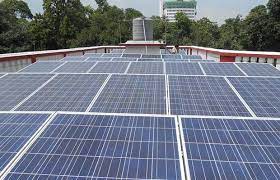 According to the data available on the website of the Union Ministry of New and Renewable Energy (MNRE), India could install just 6GW of Rooftop Solar (RTS) power by the end of October 2021 under the rooftop solar scheme.
Although utility-scale solar has seen tremendous progress with leading players lining up for projects, tariffs spiralling down and government agencies pushing mega projects, RTS has continued to remain neglected.
Rooftop Solar
Rooftop solar is a photovoltaic system that has its electricity-generating solar panels mounted on the rooftop of a residential or commercial building or structure.
Rooftop mounted systems are small compared to ground-mounted photovoltaic power stations with capacities in the megawatt range.
Rooftop PV systems on residential buildings typically feature a capacity of about 5 to 20 kilowatts (kW), while those mounted on commercial buildings often reach 100 kilowatts or more.
Rooftop Solar Scheme:
The major objective of the scheme is to generate solar power through the installation of solar panels on the roof of the houses.
Also, the Ministry of New and Renewable Energy has announced the implementation of Phase 2 of the grid-connected Rooftop Solar Scheme.
The aim of the scheme is to achieve the final capacity of 40 GW from Rooftop Solar Projects by 2022.
The 40GW goal is part of India's ambitious target to achieve 175GW renewable energy (RE) capacity that includes 100GW of solar power by 2022.
According to a report released in September, 2021, the lockdowns slowed renewable energy installations in the country and the pace of such installations is lagging India's 2022 target.