BrahMos Supersonic Cruise Missile: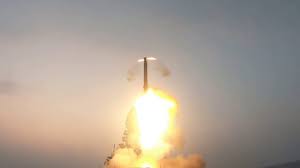 An extended range sea-to-sea variant of the BrahMos supersonic cruise missile was test fired from stealth guided missile destroyer INS Visakhapatnam.
BrahMos is a joint collaboration between India and Russia.
The BrahMos missile was initially developed with a range capped at 290 km.
The range of the missile was originally capped at 290 km as per obligations of the Missile Technology Control Regime(MTCR).
However, following India's entry into the MTCR club in June 2016, the range is planned to be extended to 450 km and to 600km at a later stage.
BrahMos is a joint venture between the Defence Research and Development Organisation of India (DRDO) and the NPOM of Russia.
BrahMos is named on the rivers Brahmaputra and Moskva.
It is a two-stage (solid propellant engine in the first stage and liquid ramjet in second) missile.
It is a multiplatform missile i.e it can be launched from land, air, and sea and multi capability missile with pinpoint accuracy that works in both day and night irrespective of the weather conditions.
It operates on the "Fire and Forgets" principle i.e it does not require further guidance after launch.
Brahmos is one of the fastest cruise missile currently operationally deployed with speed of Mach 2.8, which is nearly 3 times more than the speed of sound.
About INS Viskhapatnam:
It is the first ship of the four state-of-the-art stealth guided missile destroyers, developed under Project-15B. Other Three Ships of Project 15B:
The second ship of P15B, Mormugao was launched in 2016, and is being readied for harbour trials.
The third ship (Imphal) was launched in 2019, and is at an advanced stage of outfitting.
The fourth ship (Surat) is under block erection and will be launched within this current financial year (2022) .
The Guided missile Destroyers of Project 15B (P 15B) are under construction at Mazagaon Dock Shipbuilders Limited, Mumbai.