National Youth Day: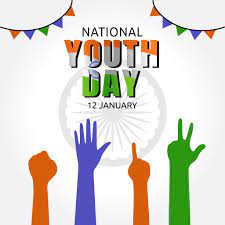 January 12 marks the birthday of Swami Vivekananda.
National Youth Day is celebrated on this day. Celebrated since 1984.
The main objective is to promote rational thinking among the youth, believed to be the future of the country.
Swami Vivekananda was a true luminary, credited with enlightening the western world about Hinduism.
He was an ardent disciple of Sri Ramakrishna Paramahansa and a major force in the revival of Hinduism in India.
He pushed for national integration in colonial India, and his famous speech remains as the one that he gave in Chicago in 1893.
Born in Kolkata on January 12, 1863 in Kolkata, Swami Vivekananda was known as Narendra Nath Datta in his pre-monastic life.
He is known to have introduced the Hindu philosophies of Yoga and Vedanta to the West.
Netaji Subhas Chandra Bose had called Vivekananda the "maker of modern India."
In 1893, he took the name 'Vivekananda' after Maharaja Ajit Singh of the Khetri State requested him to do so, changing from 'Sachidananda' that he used before.
He formed the Ramakrishna Mission in 1897 "to set in motion a machinery which will bring noblest ideas to the doorstep of even the poorest and the meanest."
In 1899, he established the Belur Math, which became his permanent abode.
He preached 'neo-Vedanta', an interpretation of Hinduism through a Western lens, and believed in combining spirituality with material progress.
Books written by him: 'Raja Yoga', 'Jnana Yoga', 'Karma Yoga' are some of the books he wrote.