Scheme For Economic Empowerment Of Denotified, Nomadic, Semi-nomadic (SEED) Tribes: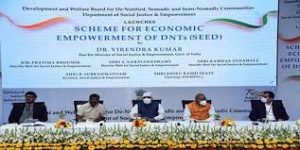 The Union Social Justice Ministry received 402 applications online from across the country for benefits under the Scheme for Economic Empowerment of Denotified, Nomadic, Semi-nomadic (SEED) Tribes.
More than 10 crore Indians from 1,400 communities belong to these groups, show the latest estimates available with the government.
The scheme aims to provide free competitive exam coaching to students, health insurance and financial assistance for housing and uplift clusters of these communities through livelihood initiatives.
The Ministry has been allocated ₹200 crore for this scheme to be spent over five financial years from 2021-22 to 2025-26.
At the time of the launch, the Ministry announced that the scheme would be implemented through an online portal that would issue a unique ID to each applicant to apply and track the status of the application online.