Cargo Vessel Sank In The Shitalakhsya River In Narayanganj In Bangladesh: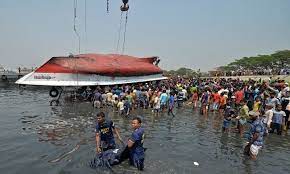 A Bangladesh ferry carrying around 50 passengers collided with a cargo vessel and sank in the Shitalakhsya River in Narayanganj in Bangladesh, leaving at least 26 people dead.
Shitalakshya River
Shitalakshya River (also known as Lakhya River) is a distributary of the Brahmaputra.
In its initial stages, it flows in a southwest direction and then east of the city of Narayanganj in central Bangladesh until it merges with the Dhaleswari near Kalagachhiya.
A portion of its upper course is known as Banar River.