Exercise Shantir Ogroshena: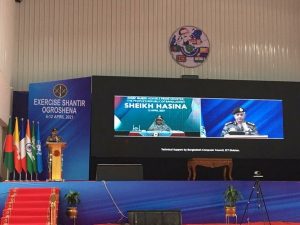 =
Multinational military exercise Shantir Ogroshena, which went for 10 days in Bangladesh, concluded on 12th April 2021.
The year 2021 marks the 50th anniversary of diplomatic relations between India and Bangladesh.
The exercise was organised to commemorate the birth centenary of Bangabandhu Sheikh Mujibur Rahman, Bangladesh's Father of the Nation and celebrate the golden jubilee of the liberation of Bangladesh.
It was held at Bangabandhu Senanibas (BBS), Bangladesh.
Shantir Ogroshena' 2021 means "Front Runner of the Peace".
The theme of this exercise was to strengthen defence ties and enhance interoperability amongst neighbourhood countries to ensure effective peacekeeping operations.
It was a UN (United Nations)- mandated counterterrorism exercise.
Countries that Participated:
Troops from India, Bangladesh, Bhutan and Sri Lanka participated in the exercise with observers from the USA, UK, Russia, Turkey, Saudi Arabia, Kuwait and Singapore.