e-Malkhana: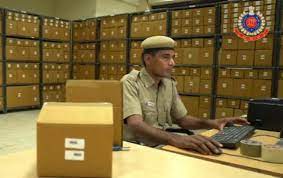 Visakhapatnam City police is set to introduce e-Malkhana in all police stations by June this year.
e-Malkhana is a scientific storage system implemented by the Visakhapatnam Police Commissionerate to preserve and organize items and evidence recovered from crime scenes.
The system uses standardized cardboard boxes labelled with unique numbers and QR codes for easy retrieval and access to case-related information.
It enhances efficiency, transparency, and the chain of custody for law enforcement officials.