World Water Week : 20th To 24th August, 2023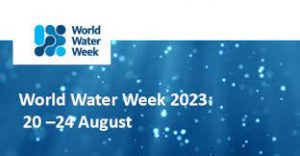 World Water Week, taking place from 20th to 24th August, 2023 is the yearly global water forum organized by Stockholm International Water Institute.
This year's theme, "Seeds of Change: Innovative Solutions for a Water-Wise World," spotlights innovation in addressing current water challenges.
In line, Jal Jeevan Mission, launched in 2019, is envisioned to provide safe and adequate drinking water through individual household tap connections by 2024 to all households in rural India.
This ambitious initiative aims to learn from the shortcomings of past programs and rectify their failures.
The mission allows for tapping into both surface water and groundwater, focusing on recharge and protection.
The mission emphasizes sensitizing communities and implementing officers at all levels, encouraging active participation.
A central dashboard publicly shares progress data, fostering healthy competition and encouraging action.
The program encompasses disaster preparedness, bulk water transfers, technological interventions, and greywater management.
Jal Jeevan Mission:
The goal of this mission is to provide 55 litres of water per person per day to every rural household through Functional Household Tap Connections (FHTC) by 2024.
It comes under the Ministry of Jal Shakti.