World Water Week 2021: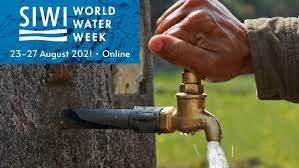 World Water Week 2021 is being held entirely online, 23-27 August, with the theme Building Resilience Faster.
World Water Week is the leading annual event on global water issues, organized by Stockholm International Water Institute since 1991.
It is a week-long global water conference held each year in late August or early September.
During the week, the Stockholm Water Prize, the Stockholm Junior Water Prize, and the Stockholm Industry Water Award are given out at their respective award ceremonies.
The Week attracts participants from more than 130 countries and consists of a broad array of parallel activities convened by leading international organizations on a broad array of water-related topics, ranging from food security and health to agriculture, technology, biodiversity, and the climate crisis.
Stockholm International Water Institute (SIWI) is a Stockholm-based policy institute that generates knowledge and guides decision-making towards water wise decisions. it was founded in 1991.