Daily Current Affairs for Government Exams:
Today Current Affairs: 12th November 2020 for UPSC IAS exams, State PSC exams, SSC CGL, State SSC, RRB, Railways, Banking Exam & IBPS, etc
Contents:
India-Maldives:
Production-Linked Incentive (PLI) Scheme:
Operation Greens Scheme:
Draft Data Centre Policy 2020:
Foreign Contribution Regulation Act (FCRA), 2010.:
Other important current affairs:
1.India-Maldives: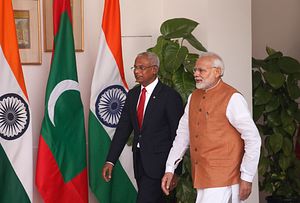 India and the Maldives have signed four Memorandums of Understanding (MoUs).
Four MoUs:
Two MoUs for High Impact Community Development Projects.
An MoU on Cooperation in Sports and Youth Affairs.
An MoU for a USD 100 million grant to fund the Greater Male Connectivity Project (GMCP) which is the largest ever such infrastructure project undertaken in the Maldives.
GMCP is a financial package by India, consisting of a grant of USD 100 million and a new line of credit of USD 400 million.
This will be the largest civilian infrastructure project in the Maldives, connecting Malé (the capital) with three neighbouring islands viz. Villingili, Gulhifalhu (where a port is being built under the Indian line of credit) and Thilafushi (new industrial zone) by the construction of a bridge-and-causeway link.
This will boost economic activity, generate employment and promote holistic urban development in the Malé region.
2. Production-Linked Incentive (PLI) Scheme: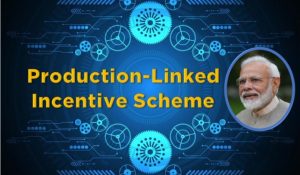 The Union Cabinet has given its approval to introduce the Production-Linked Incentive (PLI) Scheme in the following 10 key sectors for Enhancing India's Manufacturing Capabilities and Enhancing Exports.
Sectors and Implementing Ministry/Department:

Advance Chemistry Cell (ACC) Battery: NITI Aayog and Department of Heavy Industries.
Electronic/Technology Products: Ministry of Electronics and Information Technology
Automobiles & Auto Components: Department of Heavy Industries.
Pharmaceuticals drugs: Department of Pharmaceuticals
Telecom & Networking Products: Department of Telecom
Textile Products (MMF segment and technical textiles): Ministry of Textiles
Food Products: Ministry of Food Processing Industries.
High-Efficiency Solar PV Modules: Ministry of New and Renewable Energy.\
White Goods (ACs & LED): Department for Promotion of Industry and Internal Trade.
Speciality Steel: Ministry of Steel.

The above will be in addition to the already notified PLI schemes in the following sectors:

Mobile Manufacturing and Specified Electronic Components: MEITY.
Critical Key Starting materials/Drug Intermediaries and Active Pharmaceutical Ingredients: Department of Pharmaceuticals.
Manufacturing of Medical Devices: Department of Pharmaceuticals
3.Operation Greens Scheme: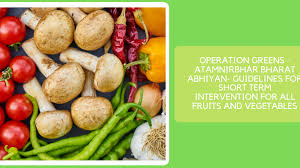 Under Operation Greens Scheme TOP to TOTAL, 50% transportation subsidy is now made available for air transportation for 41 notified fruits and vegetables from North-Eastern and the Himalayan States to any place in India.
Airlines will provide the transport subsidy directly to the supplier/consignor/consignee/ agent by way of charging only 50% of the actual contracted freight charges and will claim the balance 50% from MoFPI as a subsidy.
The scheme was approved and the amended Scheme Guidelines were notified on 02.11.2020.
In the relaxation of other conditions for Operation Greens – TOP to TOTAL Scheme for transportation through Airlines from eligible airports, all consignment of notified fruits and vegetables irrespective of quantity and price would be eligible for 50% freight subsidy.
The transportation subsidy was earlier extended under Operation Greens Scheme for Kisan Rail Scheme with effect from 12.10.2020. Railways charge only 50% of freight charges on the notified fruits and vegetables.
Eligible airports: All the airports in Arunachal Pradesh, Assam, Manipur, Meghalaya, Mizoram, Nagaland, Sikkim (Bagdogra), and Tripura from North-East, and Himachal Pradesh, Uttarakhand, and Union Territories of Jammu & Kashmir and Ladakh among the Hilly States.
4.Draft Data Centre Policy 2020: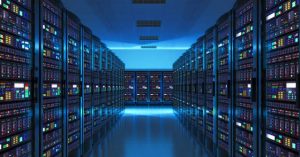 The Ministry of Electronics & Information Technology (MeitY) has released the Draft Data Centre Policy, which aims to simplify clearances for setting up data centres in the country.
The vision of the Draft Data Centre Policy:
Making India a Global Data Centre hub,
Promote investment in the sector,
Propel digital economy growth,
Enable provisioning of trusted hosting infrastructure to fulfil the growing demand of the country and facilitate the state of the art service delivery to citizens.
Data Centre: It is a dedicated secure space within a building/centralized location where computing and networking equipment is concentrated for the purpose of collecting, storing, processing, distributing or allowing access to large amounts of data.
Data Centre Parks: These are specialized secure Data Zone, strategically located with the most conducive non-IT and IT infrastructure, and regulatory environment for housing mix of small scale/large scale clusters of Data Centres to serve the high needs of computing, storage, networking and provision of a wide range of data-related services.
Provisions:
Providing Infrastructure Status to the Data Centre Sector, at par with other sectors like Railways, Roadways, and Power.
The status will help the sector avail long-term credit from domestic and international lenders at easier terms and will give a boost to the investments.
Demarcation of specific zones with necessary infrastructure such as roads, running water and electricity to set up data centre parks.
A single-window, time-bound clearance system for all the approvals required to set up a data-centre park.
Formulation of Data Centre Incentivization Scheme (DCIS) which will specify the intended beneficiaries, applicability criteria and fiscal and non-fiscal incentives for the sector.
Setting-up at least four Data Centre Economic Zones (DCEZ) in the country, as a Central Sector Scheme – DCEZ Scheme. DCEZs would create an ecosystem of Hyperscale Data Centres, Cloud Service Providers, IT companies, R&D units and other allied industries.
In order to address the issues around the high consumption of power, data centre parks would be encouraged to set up their own power generation units, and use renewable energy.
Data centres will be declared as an Essential Service under "The Essential Services Maintenance Act, 1968 (ESMA)" which means that there would be a continuity of services even during times of calamities or crisis.
Strengthening the Atmanirbhar Bharat initiative by identifying possible opportunities of manufacturing of data centre equipment (IT as well as non-IT) in the country.
The Policy also identifies possible areas of participation by micro, small, and medium enterprises and start-ups.
Collaboration with the Ministry of Skills Development and Entrepreneurship (MSDE) and leading academic institutes to impart large scale training to the workforce on Data Centre, Digital and Cloud technologies, and facilitate sector linkages for such trained workforce.
An Inter-Ministerial Empowered Committee (IMEC) would be set up under the Chairmanship of Secretary,
MeitY, with participation from various Central Ministries and State Governments.
It shall be the key decision-making body to facilitate the implementation of various measures as defined under this policy framework, enabling ease of doing business in the sector.
An independent Data Centre Industry Council (DCIC) is proposed to be set up, which would act as an interface between the sector and the Government.
5.Foreign Contribution Regulation Act (FCRA), 2010.: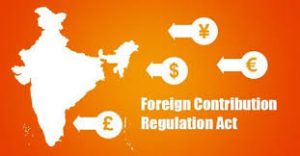 The Ministry of Home Affairs (MHA) has notified new rules under the Foreign Contribution Regulation Act (FCRA), 2010.
Foreign Contribution Regulation Act (FCRA) first enacted in 1976, was once amended in the year 2010 to regulate the foreign contributions or donations and hospitality (air travel, hotel accommodation etc) to Indian organizations and individuals and to stop such contributions which might damage the national interest
It has been amended again in 2020 to enhance transparency and accountability in the receipt and utilisation of foreign contributions and facilitating the genuine non-governmental organisations or associations who are working for the welfare of society.
The Act is applicable to all associations, groups and non-governmental organisations (NGOs) who intend to receive foreign donations.
As per the FCRA, members of legislatures, political parties, government officials, judges and media persons are prohibited from receiving any foreign contribution.
The MHA has notified new rules under the FCRA, 2010 thereby amending the FCRA Rules, 2011.
New Rules:
Norms for farmers, students, religious and other groups who are not directly aligned to any political party to receive foreign funds, if the groups are not involved in active politics, has been relaxed.
FCRA registrations have been made more stringent.
Any organisation that wants to register itself under FCRA shall be in existence for three years and should have spent a minimum amount of 15 lakh on its core activities for the benefit of society during the last three financial years.
However, the Central Government in exceptional cases or in cases where a person is controlled by the Central Government or a State Government may waive the conditions.
Office bearers of NGOs or organisations seeking registration under the FCRA are required to submit a specific commitment letter from the donor indicating the amount of foreign contribution and the purpose for which it was being given.
Other important current affairs:
1.President's Chair of Excellence on National Security at National Defence College (NDC).
On the occasion of Diamond Jubilee of NDC, President of India has approved the establishment of "President's Chair of Excellence on National Security" on 11 Nov 2020 at Rashtrapati Bhawan.
The Chair will not only help in enhancing the intellectual capital of the college but also go a long way in uplifting its credibility and reputation.
The chair will be located at National Defence College, New Delhi and shall be provided all academic, administrative and logistic support.
NDC was inaugurated by the Prime Minister of India in 1960 and has completed 60 years of its formation on 27 April 2020.
The college runs a 47 week uniquely designed course on "National Security & Strategic Studies" for 100 course members, of whom 25 are from friendly foreign countries.
2.The International Financial Services Centres Authority (IFSCA), approved the International Financial Services Centres Authority (Banking) Regulations, 2020.
The salient aspects of the Banking Regulations include:

Laying down the requirements for setting up IFSC Banking Units (IBUs)
Permitting persons resident outside India (having net worth not less than USD 1 Million) to open foreign currency accounts in any freely convertible currency at IFSC Banking Units (IBUs)
Permitting persons resident in India (having net worth not less than USD 1 Million) to open foreign currency accounts in any freely convertible currency at IBUs to undertake any transaction under the Liberalised Remittance Scheme (LRS) of the Reserve Bank of India.
Laying down the permissible activities of IBUs including credit enhancement, credit insurance, and sale, purchase of portfolios, engage in factoring and forfeiting of export receivables, and undertake equipment leasing, including aircraft leasing
Permitting the Authority to determine the business that a Banking Unit may be permitted to conduct in INR with persons resident in India and persons resident outside India, subject to settlement of the financial transaction in relation to such business in freely convertible foreign currency.
3.The Cabinet Committee on Economic Affairs has approved the continuation and revamping of the Viability Gap Funding (VGF) Scheme under the Public-Private Partnership (PPP) model till 2024-25 with a total outlay of Rs. 8,100 crores.
Viability Gap Funding (VGF) means a grant one-time or deferred, provided to support infrastructure projects that are economically justified but fall short of financial viability.
Public-Private Partnerships (PPPs) involve collaboration between a government agency and a private-sector company that can be used to finance, build, and operate projects, such as public transportation networks, parks, and convention centres.
The Viability Gap Funding (VGF) provided for economic infrastructure will be extended to social infrastructure.
4.The government has set up a 22-member inter-ministerial committee in strengthening the Capital Goods (CG) Sector to make this sector globally competitive and to become the manufacturing hub for the world.
The Committee will look into issues pertaining to the Capital Goods Sector including technology development, mother technology development, global value chains, testing, skill training, global standards, reciprocity issues, custom duties.
The Inter-Ministerial Committee (IMC) under the chairmanship of Secretary of Department Heavy Industries with representation at sufficiently senior-level officers from the concerned Ministries/Departments is proposed to meet quarterly
5.Prime Minister Shri Narendra Modi will inaugurate the Institute of Teaching and Research in Ayurveda (ITRA) at Jamnagar and National Institute of Ayurveda (NIA) at Jaipur on 5th Ayurveda Day (i.e) 13th November 2020.
Dedication to the nation of ITRA, Jamnagar as an Institution of National Importance and NIA, Jaipur as an Institution Deemed to be University is a historic step not just in the modernization of Ayurveda Education.
This will provide them the autonomy to upgrade the standard of Ayurveda education, frame various courses as per emerging national and international demand, and excel in modern research to generate more and more evidence.
The Ayurveda Day is being observed every year from 2016, on the day of Dhanwantri Jayanti. This year it falls on 13th November 2020.