Today Current Affairs: 2nd March 2021 for UPSC IAS exams, State PSC exams, SSC CGL, State SSC, RRB, Railways, Banking Exam & IBPS, etc
Pompeii: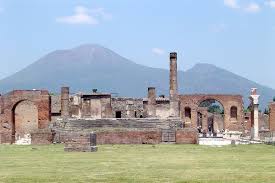 Archaeologists working at Pompeii have announced the discovery of a large ceremonial chariot, found with four wheels, it's iron components, bronze and tin decorations, mineralized wood remains, and imprints of organic materials.
It is likely that the chariot was used as a transport vehicle by Roman elites during various ceremonies.
This is an exceptional discovery because it represents a unique find – which has no parallel in Italy thus far – in an excellent state of preservation.
Pompeii was a Roman town in Southern Italy's Campania region situated along the Bay of Naples.
The town was completely buried by volcanic ash after the eruption of Mount Vesuvius in 79 CE, over 2,000 years ago.
Earlier, researchers unearthed a thermopolium, Latin for hot drinks counter, in Pompeii. The snack food counter was found complete with an image of a Nereid riding a sea-horse, decorative still-life frescoes, food residues etc.
In November 2020, the Italian Culture Ministry announced the discovery of well-preserved remains of two men, who perished during the volcanic eruption.
Swachhta Saarthi Fellowship: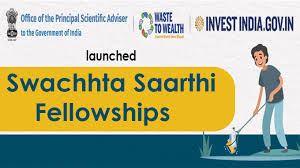 The Office of the Principal Scientific Adviser to the Government of India under its "Waste to Wealth" Mission launched the "Swachhta Saarthi Fellowship"
Aim of the fellowship to recognize students, community workers/self-help groups, and municipal/sanitary workers who are engaged in tackling the enormous challenge of waste management, scientifically and sustainably.
The Waste to Wealth Mission is one of the nine national missions of the Prime Minister's Science, Technology, and Innovation Advisory Council (PM-STIAC).
The three categories of awards under the fellowships are as below:

Category-A – Open to School students from 9th to 12th standards engaged in waste management community work
Category-B – Open to College students (UG, PG, Research students) engaged in waste management community work
Category-C – Open to Citizens working in the community and through SHGs, municipal or sanitary workers working beyond specifications of their job requirement/descriptions
North East Cane And Bamboo Development Council (NECBDC):
The Union Territory of Jammu & Kashmir will set up three Bamboo Clusters through technical know-how and collaboration from North East Cane and Bamboo Development Council (NECBDC).
Each of the three clusters will be devoted to the production of Agarbatti, baskets, and charcoal respectively.
What is NECBDC:
Formerly known as the 'Cane and Bamboo Development Council' (CBDC), NECBDC was incorporated with the objective of organizing the hitherto untapped bamboo sector of North East India.
Union Territory of Jammu and Kashmir has huge Bamboo reserves that can boost its economy in the future.
Bamboo cultivation can revolutionize the industry in Jammu and Kashmir in a cost-effective manner and can open new gates for young start-ups.
The UT Govt. is in the process of identifying 100 venues and will identify the programs to be held there in the first phase.
National Bamboo Mission (NBM):
The mission was launched in April 2018.
It aims to-increase the area under bamboo cultivation and also adopting regional based strategies to promote bamboo products.
The NBM envisages promoting holistic growth of the bamboo sector by adopting the area-based, regionally differentiated strategy and increasing the area under bamboo cultivation and marketing.
The NBM will be a sub-scheme of the National Mission on Sustainable Agriculture (NMSA) under the umbrella scheme Krishonnati Yojana.
Khujli Ghar: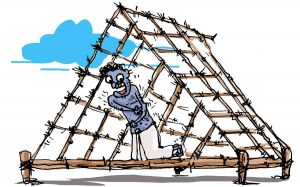 Some villages in Nagaland are trying to revive a traditional form of punishment
What is Khujli Ghar?
It is a cramped, triangular cage made from the logs of an indigenous tree that irritates the skin.
It is a traditional form of punishment that seeks to check crime.
Some villages in Nagaland are trying to revive this form of punishment.
Such itchy cages are referred to as khujli ghar in Nagamese.
But each Naga community has its own name. The Aos, one of the major tribes of Nagaland, call it Shi-ki which means flesh-house.
The cage is usually placed at a central spot in the village, usually in front of the morung, or bachelor's dormitory, for the inmate to be in full public view.
The cage is made of the logs of Masang-fung, a local tree that people avoid because of the irritation it causes.
It does not affect the palm but people who make the cages have to be careful.
Revising National Food Security Act, 2013: NITI Aayog: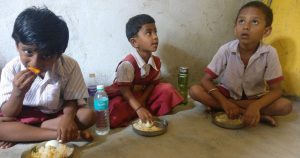 NITI Aayog, through a discussion paper, has recommended reducing the rural and urban coverage under the National Food Security Act (NFSA), 2013, to 60% and 40%, respectively.
It has also proposed a revision of beneficiaries as per the latest population which is currently being done through Census- 2011.
Approximately 2.37 crore households or 9.01 crore persons, as in February 2021 under Antyodaya Anna Yojana.
While approximately 70.35 crore persons are under the priority households.
Significance of the NITI Aayog's Recommendations:
If the rural-urban coverage ratio remains the same (67% of all population), then the total number of people covered will increase from the existing 81.35 crores to 89.52 crore – an increase of 8.17 crore (based on the projected 2020 population).
This will result in an additional subsidy requirement of Rs. 14,800 crore.
If the national coverage ratio is revised downward, the Centre can save up to Rs. 47,229 crore.
This amount of savings can be utilised by the Government in other important areas of concern such as health and education.
National Food Security Act (NFSA), 2013
Notified on: 10th September 2013.
Objective: To provide for food and nutritional security in the human life cycle approach, by ensuring access to adequate quantities of quality food at affordable prices to people to live a life with dignity.
Coverage: 75% of the rural population and upto 50% of the urban population for receiving subsidized foodgrains under the Targeted Public Distribution System (TPDS).
Overall, NFSA caters to 67% of the total population.
Priority Households to be covered under TPDS, according to guidelines by the State government.
Households covered under existing Antyodaya Anna Yojana.
Provisions:

5 Kgs of foodgrains per person per month at Rs. 3/2/1 per Kg for rice/wheat/coarse grains.
The existing AAY household will continue to receive 35 Kgs of foodgrains per household per month.
Meal and maternity benefit of not less than Rs. 6,000 to pregnant women and lactating mothers during pregnancy and six months after the child birth.
Meals for children upto 14 years of age.
Food security allowance to beneficiaries in case of non-supply of entitled foodgrains or meals.
Setting up of grievance redressal mechanisms at the district and state level.
'Formation & Promotion of 10,000 Farmer Produce Organizations (FPOs):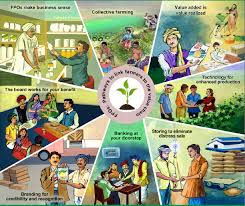 The Ministry of Agriculture and Farmers Welfare celebrated the first anniversary of the Central Sector Scheme titled 'Formation & Promotion of 10,000 Farmer Produce Organizations (FPOs)'.
In February 2020, at Chitrakoot (Uttar Pradesh) with a budgetary provision of Rs. 6865 crore.
More than 2200 FPOs produce clusters have been allocated for the formation of FPOs in 2020-21.
Implementing Agencies (IAs) are engaging Cluster-Based Business Organizations (CBBOs) to aggregate, register & provide professional handholding support to each FPO for a period of 5 years.
CBBOs will be the platform for an end to end knowledge for all issues related to FPO promotion.
Financial Assistance:

Up to Rs. 18.00 lakh per FPO for a period of 3 years.
Provision has also been made for matching equity grants up to Rs. 2,000 per farmer member of FPO with a limit of Rs. 15.00 lakh per FPO.
Provision of a credit guarantee facility up to Rs. 2 crores of project loan per FPO from the eligible lending institution to ensure institutional credit accessibility to FPOs.
Rashtriya Uchchatar Shiksha Abhiyan: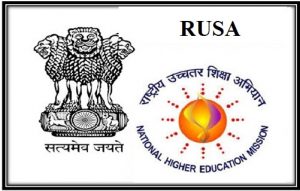 The Union Education Minister chaired a review meeting on Rashtriya Uchchatar Shiksha Abhiyan (RUSA).
Highlights of the Meeting:
Gross Enrolment Ratio (GER): Need to draw plans on educating additional 3.5 crore students to increase GER to 50% by 2035.
India's higher education enrollment is calculated in terms of GER, which is the ratio of population in the 18-23 age group to the number of people enrolled in higher education.
According to All India Survey on Higher Education (AISHE), the GER in higher education has increased from 25.8% in 2017-18 to 26.3% in 2018-19, while in absolute terms the enrolment increased from 3.66 crores to 3.74 crore students.
A total of 7 crore students with employable skills that suit local conditions should pass out from colleges and Universities.
Education should lead to local employment. Education in Degree College should be aligned with the "One district one product (ODOP)" plan.
The University Grants Commission will monitor the progress of work done by Institutions that received funding under the RUSA scheme.
Rashtriya Uchchatar Shiksha Abhiyan:
It aims at providing strategic funding to higher education institutions throughout the country.
The scheme is being operated in mission mode for funding state universities and colleges to achieve the aims of equity, access, and excellence.
Funding: It is a centrally sponsored scheme launched in October 2013.
Since 2016-17, the government has spent an average of Rs. 1,500 crore every year on RUSA.
The Land Ports Authority of India (LPAI) Celebrated Its 9th Foundation Day: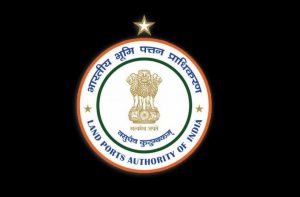 The Land Ports Authority of India (LPAI) celebrated its 9th Foundation Day today at its headquarters in New Delhi.
It is a statutory body (created through the Land Ports Authority of India Act, 2010).
Founded in: 2012.
Parent ministry: Ministry of Home Affairs.
It is responsible for creating, upgrading, maintaining and managing border infrastructure in India. It manages several Integrated Check Posts (ICPs) all across Borders of India.
3rd Jan Aushadhi Diwas Celebrations: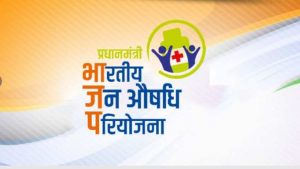 The 3rd Janaushadhi Diwas 2021 celebrations starting from 1st March to 7th March
It will be a weeklong celebration starting from 1st March to 7th March 2021.
Jan Aushadhi kendras conducted Health Checkup Camps across the country.
These health check-up camps included Blood Pressure checkups, Sugar level checkups, free doctor consultation, free medicine distribution, etc. at various Jan Aushadhi kendras.
More than 1000 health check-up camps at different places were organized today across the country.
The general public who visited these health camps were also informed and educated about the price benefits and quality of the medicines being sold at Jan Aushadhi kendras.
Bureau of Pharma PSUs of India (BPPI), the implementing agency of Pradhan Mantri Bhartiya Janaushadhi Pariyojana (PMBJP) is celebrating 3rd Janaushadhi Diwas on 7th March, 2021 with the theme of "Seva bhi – Rozgar bhi".
Prime Minister Shri Narendra Modi announced celebrating 07th March every year as "Janaushadhi Diwas" across India.
Last year, on 2nd Janaushadhi Diwas, 5695 Pradhan Mantri Bhartiya Janaushadhi Kendras participated in the celebration with the active participation of over 15 lakh citizens of India.
Jan Aushadhi Diwas week celebrations are held from 1st March to 7th March by conducting various activities like Health Checkup Camps, Jan Aushadhi Paricharcha, Teach Them Young, Jan Aushadhi ka sath, etc. across the country..
Global-Bio India 2021: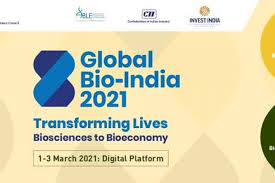 The Union Minister for Science & Technology, Earth Sciences and Health & Family Welfare Dr Harsh Vardhan inaugurated the second edition of Global Bio-India-2021 in New Delhi through virtual mode.
The three-day event will be held from March 01 to 03, 2021, on a digital platform.
The purpose of the event is to showcase the strength and opportunities of the biotechnology sector of India at the national as well as international level.
The Government of India has a target of building a USD 150 billion bio-economy by 2025.
The theme of Global Bio-India-2021: "Transforming lives" with the tag line "Biosciences to Bio-economy".
The event is co-organized by the Department of Biotechnology under the Ministry of Science & Technology along with its Public Sector Undertaking, and Biotechnology Industry Research Assistance Council (BIRAC) in partnership with industry association Confederation of Indian Industry (CII), Association of Biotechnology Led Enterprises (ABLE) and Invest India.
LinkedIn Opportunity Index 2021: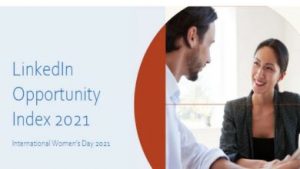 As many as 85 per cent of working women in our country have missed out on work offers, promotion or raise due to their gender, claims a report. The report also found that women's work was more impacted by the COVID-19 pandemic, as compared to men.
The key finding from LinkedIn Opportunity Index 2021:
85 percent women missed out on a raise, work offers and promotions due to their gender.
89 percent working women were negatively impacted by the pandemic.
50 percent, women see their gender as a barrier when it comes to procuring opportunities.
63 percent women opine that a person's gender is important to get ahead in life.
22 percent women feel companies harbour 'favourable bias' towards men in India.
37 percent women feel they get paid lower than men.
The report also highlighted the impact of factors like inner male circles at the workplace, family responsibilities and the general perception about the scale of the issue, on women's careers in India. Close to 66 percent of participating women said that they have faced a lack of guidance through networks, while over 70 percent feel that family responsibilities come in the way of their career.
As many as 22 percent women in India agree that companies harbour 'favourable bias' towards men. Shockingly, 66 percent of people feel that gender inequality has smoothened out from their parents' generation.
This survey was conducted among participants between the ages of 18 to 65 years.
Over 10,000 people took part in the survey from the Asia Pacific region, China, Australia, Japan, India, Malaysia, Philippines and Singapore. In India, 2,285 respondents took part in the survey, out of which 1,053 identified as women.