Humboldt Penguins: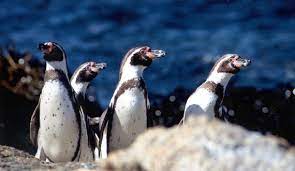 Last week, Mumbai's Byculla Zoo announced the addition of two new Humboldt penguin chicks this year. The two join seven adult Humboldt penguins at Byculla Zoo — Popeye, Flipper, Bubble, and the new parents.
Humboldt penguins are a medium-sized species among at least 17 species.
The largest, the Emperor penguin, stands at over 4 ft tall while the Little penguin has a maximum height of 1 ft. Humboldt penguins have an average height of just over 2 ft.
Penguins are divided into six genera (see table). The Humboldt penguin (Spheniscus humboldti) belongs to a genus that is commonly known as the 'banded' group. Humboldt penguins are endemic to the Pacific coasts of Chile and Peru.
They are so named because their habitat is located near the Humboldt Current, a large oceanic upwelling characterised by cold waters.
Humboldt penguins have large, bare skin patches around their eyes, an adaptation to help keep them cool.
The Humboldt is one of the most popular zoo penguins due to its ability to withstand warmer climates.