Pompeii: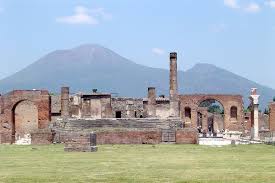 Archaeologists working at Pompeii have announced the discovery of a large ceremonial chariot, found with four wheels, it's iron components, bronze and tin decorations, mineralized wood remains, and imprints of organic materials.
It is likely that the chariot was used as a transport vehicle by Roman elites during various ceremonies.
This is an exceptional discovery because it represents a unique find – which has no parallel in Italy thus far – in an excellent state of preservation.
Pompeii was a Roman town in Southern Italy's Campania region situated along the Bay of Naples.
The town was completely buried by volcanic ash after the eruption of Mount Vesuvius in 79 CE, over 2,000 years ago.
Earlier, researchers unearthed a thermopolium, Latin for hot drinks counter, in Pompeii. The snack food counter was found complete with an image of a Nereid riding a sea-horse, decorative still-life frescoes, food residues etc.
In November 2020, the Italian Culture Ministry announced the discovery of well-preserved remains of two men, who perished during the volcanic eruption.