Finance Minister Nirmala Sitharaman presented India's longest Budget speech for the fiscal year 2020-21 with two hours thirty-seven minutes spent and the speech still underway. Central govt's debt has come down to 48.7% in March 2019 from 52.2% in March 2014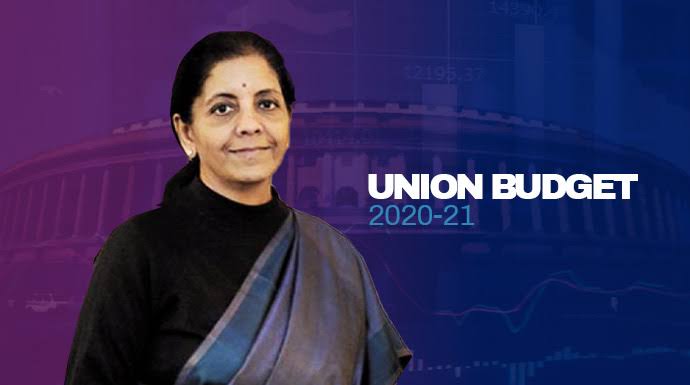 This year's Union Budget centers around three ideas:
Aspirational India
Economic development,
A Caring Society.
Budgetary allocations:
The government has proposed to spend a total of ₹30.42 lakh crore in FY 2020-21, the expenditure figure was ₹27.86 lakh crore in FY 2019-20.
FY21 agriculture allocation ₹1.38 lakh crore
FY21 rural development allocation ₹1.23 lakh crore
FY21 agriculture and rural allocation ₹2.83 lakh crore
FY21 agriculture credit target ₹15 lakh crore
FY21 education allocation at ₹99,300 crore
FY21 healthcare allocation at ₹69,000 crore
FY21 transport infra allocation at ₹1.7 lakh crore.
FY21 Swachh Bharat Mission allocation ₹12,300 crores.
FY21 Textile industry₹1,400 crore
FY21 on Railways & Transportation ₹72,216 crore
FY21 for Scheduled Tribes ₹53,700
FY21 for Scheduled Castes & OBCs ₹85,000
FY21 Transport budget ₹1.7 lakh crore
FY21 for Rural Development ₹1,22,398 crore
Key highlights:
GST benefit of ₹1 lakh crore has been extended to consumers.
Introducing simpler GST filing system from April 2020, said Sitharaman
16 lakh new taxpayers added to the system, revealed Sitharaman.
An average household now saves about 4% of its monthly spend on account of reduced GST, said Sitharaman.
In the last two years, we have added more than 60 lakh new taxpayers.
There has been extensive engagement with stakeholders.
A simplified returns system is being introduced from April, said Finance Minister
For the Power sector
India to provide ₹273 billion ($3.84 billion) for the promotion of industry and commerce.
India to allocate ₹44 billion ($619.11 million) for clean air incentives in cities with over 1 million people
Manufacturing:
To encourage the private sector to build Data Centre Parks throughout the country
₹80 billion ($1.13 billion) over five years to be provided for quantum technologies and applications
Milk processing capacity to be doubled by 2025.
Subsidy:
Food subsidy has seen at ₹1.15 trillion in 2020/21
Petroleum subsidy has seen at ₹409.15 billion in 2020/21
Fertiliser subsidy ₹713.09 billion in 2020/21
Growth/Deficit:
The nominal GDP growth in 2020/21 estimated at 10%
Fiscal deficit for 2019/20 seen at 3.8% of GDP
Fiscal deficit for 2020/21 seen at 3.5% of GDP
Fiscal deficit for 2021/22 seen at 3.3% of GDP
Fiscal deficit for 2022/23 seen at 3.1% of GDP
Revenue deficit has seen 2.7% of GDP in FY21
Infra sector:
₹100 lakh crore to be invested on infrastructure over the next 5 years.
National Infrastructure Pipeline: Rs. 103 lakh crore worth projects; launched on 31st December 2019
More than 6500 projects across sectors, to be classified as per their size and stage of development
Defense:
The union government allocated Rs 3.37 lakh crore as the defense budget for 2020-21, which is a hike of only 5.8 percent over the allocation for this sector for the current financial year.
Rs 1.18 lakh crore is the capital outlay and Rs 2.18 lakh crore is the revenue head. Separately Rs 1.33 lakh crore is the allocation for pensions.
Without the pension, the defense budget is only 1.5 percent of the GDP.
A National Logistics Policy:
To clarify roles of the Union Government, State Governments and key regulators: single window e-logistics market to be created
Focus to be on the generation of employment, skills and making MSMEs competitive
National Skill Development Agency to give special thrust to infrastructure-focused skill development opportunities
Project preparation facility for infrastructure projects proposed To actively involve young engineers, management graduates and economists from Universities
Infrastructure agencies of the government to involve youth-power in start-ups
₹1.7 lakh crore proposed for transport infrastructure in 2020-21.
Markets:
A dividend distribution tax for companies will be scrapped, entailing a revenue loss of ₹250 billion
Excise duties: Tax on cigarettes and other tobacco products to be increased
The government raised fiscal deficit target to 3.8% of the GDP from 3.3% pegged earlier for 2019-20 due to revenue shortage.
The welfare of senior citizens:
Union Finance Minister Nirmala Sitharaman announced that the Centre this year has allocated ₹9,000 crores for the welfare of senior citizens.
Also, the government has allocated ₹53,700 crores for the uplift of Scheduled Tribes, and ₹85,000 crores for the welfare of Scheduled castes and Other Backward Classes.
Healthcare:
Union Budget 2020 allocated ₹69,000 crores for the healthcare sector
Finance Minister proposed to attach a medical college to a district hospital in PPP model
TB Harega Desh Jeetga:
Finance Minister Nirmala Sitharaman on Saturday said the government is committed to eliminating tuberculosis by 2025.
"The government will launch "TB harega desh jeetga" (TB will be defeated and the country will win) campaign to eliminate tuberculosis by 2025," said Sitharaman while presenting the budget.
Ayushman Bharat
 The total amount, ₹6,400 crores will be sanctioned for Ayushman Bharat Yojna.
Ayushman Bharat scheme provides health assurance cover of up to ₹5 lakh per family and is targeted to cover over 10 crore poor and vulnerable families.
For the MSME sector:
Audit threshold for MSMEs raised to ₹5 crores from ₹1 crore
100% tax exemption on Sovereign Wealth Funds' Indra Investment.
Concessional 5% withholding tax entended to municipal bonds,
On DDT
Dividend Distribution Tax to be removed, companies will not be required to pay DDT, dividend to be taxed only at the hands of recipients at applicable rates
New Income tax slabs:
Personal income tax is at the lowest rate of all time, Nirmala Sitharaman
0 – 2.5 lakh – exempted
₹2.5 lakh – ₹5 lakh – 5%
₹5 lakh – ₹7.5 lakh – 10% (20% earlier)
₹7.5 lakh – ₹10 lakh – 15% (20% earlier)
₹10 lakh to ₹12.5 lakh – 20% (30% earlier)
₹12.5 lakh – ₹15 lakh – 25% (30% earlier)
No change in tax rates above ₹15 lakh
Income tax rates will be significantly reduced for those who forego reliefs, exemptions, said FM Sitharaman
Industry and commerce:
The central government proposed an outlay of ₹27,300 crores for the development of industry and commerce during 2020-21
India to provide ₹273 billion or promotion of industry and commerce
Firms operating old thermal power plants advised shutting units if emission norms not met
Skill India initiative:
The government proposed ₹3,000 crores for 'Skill India' to provide relevant skill training to the youth in the country, said Finance Minister Nirmala Sitharaman on Saturday.
"There is a huge demand for teachers, paramedical staff and caregivers in foreign countries. However, their skills do not match in accordance to demand by employers. So, my government proposes ₹3,000 crores for skill development," she said during the 90th Budget presentation.
Government to sell govt stake in IDBI Bank to private investors
Government plans to sell stake in LIC through IPO, said Nirmala Sitharaman
Connecting India:
Finance Minister Nirmala Sitharaman said ₹6,000 crores allocated for BharatNet programme
Around 1 lakh gram panchayats to be linked with BharatNet this year
To clean air and pollution-free cities:
Power plants with emissions above prescribed limits will be asked to close down.
India's commitment towards tackling climate change made at the Paris conference kick starts from January 1, 2021.
FM said ₹4,400 crores has been allocated for states that work towards clean air.
₹8,000 crores allocated over 5 years for National Mission On Quantum Technology, said Finance Minister Nirmala Sitharaman.
Insurance coverage:
Deposit insurance coverage increased to ₹5 lakh from the existing ₹1 lakh.
Swachh Bharat Mission:
The Finance Minister announced that the total allocation proposed for Swachh Bharat Mission is ₹12,300 crore
Nirmala Sitharaman said the NDA government is "committed to Open Defecation Free (ODF) plus in order to sustain ODF behavior and to ensure no one is left behind."
Indian Railways:
Modi government's aim to allow for Rs 100 lakh crore investment in infrastructure which includes model railway stations, airports, housing for all, irrigation projects, etc.
4 station redevelopment projects in railways via PPP models
To develop solar capacity in Indian railways
Plan more Tejas like trains to connect tourist locations.
High-speed train between Mumbai to Ahmedabad would be actively pursued
Govt to launch ₹18,600 crores worth Bengaluru Suburban Transportation project
Push for the renewable energy sector: FM announced ₹20,000 crores for the renewable energy sector.
Indian Railways will set up Kisan Rail in public-private partnership (PPP) model for a cold supply chain to transport perishable goods.
new freight trains for farmers that will allow for quick movement of perishable goods.
doubling and tripling of Indian railways tracks in order to decongest routes on the Golden Quadrilateral and routes that carry 96% of the railway traffic. By 2024, the doubling and tripling of railway tracks will be complete.
Transport sector:
The central government is planning to construct:
2500 access control highway
9000 km eco-development corridors
200 coastal and port roads
2000 km strategic highways
Delhi-Mumbai expressway and 2 other corridors will be completed by 2023
₹1.7 lakh crore for transport infrastructure
Finance Minister Nirmala Sitharaman proposes to provide ₹1.7 lakh crore for transport infrastructure in 2020-21
Cente to provide 20% equity for Bengaluru Suburban Transportation Raj
100 more airports to be developed by 2024 to support the Central government's "Udaan" scheme.
India to develop 100 more airports by 2024
India to monetize over 6,000 km of highways in 12 lots by 2024
India to privatize at least one major port
Agricultural sector:
Govt has pegged the agricultural credit target at ₹15 lakh crore for fiscal 2020-21.
Nabard refinances scheme will be expanded.
Civil Aviation Ministry to launch 'Krishi Udaan' for agricultural exports: Krishi Udaan will be launched by the Civil Aviation Ministry to transport agri-products to national as well as international destinations.
NBFC's & co-operatives are active in credit.
Agri credit target ₹15 lakh crores.
Eligible PM KISAN beneficiaries covered under KCC.
Finance Ministry will allocate ₹2.83 crores for agriculture and irrigation.
₹1.23 lakh crore will be allocated to rural development, Panchayati raj
 Government is expanding 'PM Kusum Scheme' to 20 lakh farmers to set up solar pumps
The government will set up solar power units.
Finance Minister NirmalaSitharaman encouraged the balanced use of all fertilizers including traditional & organic.
The focus will be to change the prevailing incentive scheme that encourages the use of chemical fertilizers
An online natural product will also be strengthened.
Committed to doubling farm income by 2022,
The education sector:
150 higher education institutions to offer apprenticeship diplomas by March 2021.
The government will promote the 'Study In India' initiative.
New education policy to be announced soon
Govt to provide ₹99,300 crores for the educational sector in FY21.This is a ₹4,500 crore rise from last year where the government allocated ₹94,800 crores towards the education fund.
FM Nirmala Sitharaman said, "By 2030, India will have the largest working-age population in the world. This population needs both job and life skills.
The government proposes to attach a medical college in existing district hospitals, said FM.
Under the 'Study in India' program, the government will introduce the INSAT exam to enroll Asian and African students in Indian universities.
full-fledged online courses will be launched in India — by the institutions featuring in the top 100 national rankings. Given the increasing global demand, the Ministry of Health and Family Welfare will also kickstart a 'bridge course' to reskill its teachers and nurses.
It will also introduce a one-year internship for engineering students.
For tourism:
To make India an attractive destination for both international and domestic tourists, the Finance Minister proposed to allocate Rs 2,500 crores in 2020-21 for the tourism sector and Rs 3,150 crore for the Ministry of Culture.
the Finance Minister proposed to establish the first Indian Institute of Heritage and Conservation with the status of a deemed university to operate under the Ministry of Culture.
In a major bid to revitalize tourism, the finance minister proposed 8 new museums, which include building infrastructure around 5 Iconic Sites, besides proposing renovation of 5 major museums across the length and breadth of India.
Five Archeological sites to be set-up/developed as Iconic Sites with on-site Museums at the following locations: Rakhigarhi (Haryana), Hastinapur (Uttar Pradesh), Shivsagar (Assam), Dholavira (Gujarat) and Adichanallur (Tamil Nadu).
Maritime Museum to highlight Harappan Age at Lothal, Ahmedabad, will be renovated by Ministry of Shipping
Support will be provided for setting up Tribal Museum in Ranchi (Jharkhand).