11th Meeting Of The Executive Board Of The Association Of World Election Bodies: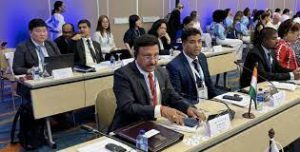 Chief Election Commissioner of India led a three-member Election Commission of India (ECI) delegation to Cartagena, Colombia to attended the 11th meeting of the Executive Board of the Association of World Election Bodies (A-WEB).
Association of World Election Bodies (A-WEB) is the largest association of Election Management Bodies (EMBs) worldwide.
It was founded in October, 2013 in Seoul, Republic of Korea.
Theme of 2023 meeting: "A global view on the challenges of regional elections 2023".
The shared vision among its members of achieving sustainable democracy around the world through the strengthening of the processes of election management in member countries.
It consists of 119 EMBs as Members & 20 Regional Associations/Organisations as Associate Members.
India is a member of this association and is represented by the Election Commission of India (ECI)
ECI took over as Chairperson for 2019-22 term and is presently a member of its Executive Board for 2022-24 in its capacity as immediate former Chair of A-WEB.
In India A-WEB Centre has been established at New Delhi for documentation and research for sharing the best practices and training and capacity building of officials of A-WEB members.