11th Meeting Of The Executive Board Of The Association Of World Election Bodies: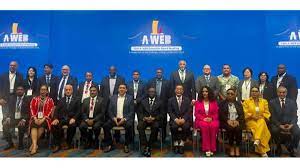 Chief Election Commissioner Shri Rajiv Kumar led a delegation from the Election Commission of India (ECI) to attend the 11th meeting of the Executive Board of the Association of World Election Bodies (A-WEB) in Cartagena, Colombia.
The Association of World Election Bodies (A-WEB) (founded 2012; HQ: Seoul, South Korea) is the largest association of Election Management Bodies (EMBs) worldwide and aims to foster efficiency and effectiveness in conducting free, fair, transparent and participative elections worldwide.
Membership currently consists of 118 EMBs as members and 20 Regional associations as associate members.
India has been closely associated with A-WEB since its inception and has actively participated in capacity-building programs and knowledge-sharing initiatives.
The India A-WEB Centre has been established in New Delhi to document and research best practices and provide training and capacity building for A-WEB members.